The nail art industry is so broad and extensive that people cannot get enough of it! In the midst of countless nail design ideas, star nails are a top-notch choice for everyone out there!
The creativity that fuels the nail art industry is awe-inspiring! There are so many ideas and models that people are eager to try on that it seems never to end. Color combinations, textures, and accessories are some embellishment things that people make good use of; however, when we get to the symbols, imagination takes the reins. Dots, lines, little hearts, flowers, and cute curls, we have seen it all.
Star nails, on the other hand, might seem quite familiar, and yet, they are everyone's favorite and hid behind their glamour, a strenuous process.
How much do star nails cost?
The cost of star nails is not expensive in the sense that you have to pay a standard price for the nails you choose, and then there might be an additional amount of money to be paid for applying the star symbols or any other additional decorations. A cheap but good salon will ask for $10(€7.78) or $20(€15.57) for a standard manicure and maybe an additional $5(€4.51) for creating the stars.
However, if you end up choosing a luxurious salon or spa, there is a high chance you will get to spend there between $60 (€54.1) and $120 (€108.2). Nevertheless, costs for this type of nail art should stay within the range of $35 and $45, which means around €31.5 or €40.6. Even if you plan to do it yourself at home to not spend too much, think twice about how many tools you need to complete it, so the total sum of money that you end up spending for doing it by yourself could exceed the total amount of money you are supposed to pay at a proper salon.
How can star nails be removed?
Regarding removal, star nails can be removed as any other type of nails is usually removed. If you apply star figures on the actual nails, then they will disappear when you wipe your polish. If you used or made star figures on the artificial nails, both acrylics and gel, dip your nails in acetone-free nail polish remover, and the star figures will go away with the actual polish.
There might be star nails made out of some special substances, but they are usually applied at a salon by a specialist who should either call you again when the nails should be taken off or let you know how you can get rid of them by yourself at home.
Do star nails usually hurt?
Once again, star nails are not so different from other types of nails decoration. The ideal case for whatever nail style you can think of is not to hurt at all. However, we already know that pain might occur in a bunch of instances: you might have an allergic reaction to a specific substance, there might appear some fungal and bacterial infections, the nails might snag, etc.; cases that cannot be predicted and situations you are not directly responsible for because it can happen to anyone.
Even so, if we are discussing star nails expressly, then we should mention that star nails differ significantly; you can apply some star forms on your natural/ artificial nails, you can purchase a polish with star glitter, you can make the stars from other substances from scratch and many other ideas. In this case, the pain might occur when stars are not applied accordingly, when the polish with star glitter is not of good quality or when you are allergic to that or to any other substances you choose to make your starts from.
As long as you are aware of what materials you are going to use and how they will be applied, then you should not worry.
How long do star nails last?
Star nails are not much different than any other nails, whether you apply them directly onto the natural nail or you decide to use artificial nails first and then decorate them with some stars. First of all, it is important to underline once again the importance of the manual labor you might do because not only artificial nails but also natural nails might be chipped, cracked, or cut because of an unpredicted incident.
Then, indeed, you have to be more careful with artificial nails because they are somehow an addition to what you already have, and they are more sensitive. However, as long as you take good care of your natural nails and make sure that the fake ones are correctly applied, then the star nails will be able to resist a couple of weeks, as long as the polish endures as well.
Are star nails harmful to your nails?
Well, star nails are mostly made out of whatever other nails/ nail polishes are made out of. They usually work with the same substances that a person typically uses for nails; they can be applied directly onto the natural nail, and in this case, it comes into contact only with a couple of substances which are tested beforehand precisely because they get to touch the natural nail and even the skin around it, so it should not be harmful.
However, you can also apply starts on artificial nails. Whether they are made out of acrylics or gel, both these substances are tested as well to provide an optimum state for your nails, so even if they come into contact with acrylics and gel, they are not supposed to harm your nail or your skin.
Star Nails Step-by-Step Tutorial:
Total Time: 1 hour
Method 1 – Painting the stars:

From the very beginning, it is essential to know that if you intend to obtain good star nails, then you have two choices: you can either experiment as much as you want at home by yourself or you can make an appointment and go to a specialist to apply them properly.

Materials needed:

1. Nail polish(es) in the color(s) of your choice;
2. A fine-tipped (nail)brush;
3. Clear topcoat.
4. The first step after you gather all the materials is to start painting your nails with the polish in the color of your choice.
5. It is important to apply more than one layer to ensure proper coverage and also, to think beforehand about the color dynamics of your outcome, in the sense that the color of your polish and the color of your stars should somehow complement each other.
6. Let the nails dry completely and make sure they are dry before deciding to draw the stars.
7. Then, use the fine-tipped brush, dip it in the color you have already prepared for your star, decide on which finger you want to apply the star, and start drawing an "A" on the respective nail with the tipped brush. You can go over it as many times as you consider it necessary to make it more visible.
8. After this, draw a line horizontally right in the middle of the "A," which will be the arms of the star. Make sure that its wings are not longer than the others.
9. To complete the star, draw another line from one line to the opposite leg, do the same with the other one, and then fill them in.
10. After creating the star, let it dry, and only after it dries wholly proceed on correcting any mistakes or adding more color.
11. After you are sure that there are no more things to be added, apply the clear topcoat on your nails as it protects the nails from chipping, and it provides shimmer.
Method 2 – Make stars with a decorative hole punch:
The second method concentrates on making a star with a decorative hole punch.
Materials needed:
Nail polish(es) in the color(s) of your choice;
Waxed paper;
Clear topcoat;
Decorative star hole punch.
The first step after gathering the materials that your need for your star nails is to paint your nails in the color of your choice, taking into consideration what color you would like your stars to be painted in beforehand.
You are allowed to go over the initial layer as many times as you consider necessary, at least three layers, to give your nails more base.
Let your nail polish dry completely for at least a few hours and then paint the waxed paper in the color of your choice for your stay.
After the paint from the waxed paper dries, carve a star shape with the help of the decorative star hole punch. Before actually applying them to the nails, be careful to peel off the waxed paper without ripping apart the star nail polish shape.
Before placing the starts on to the nails, apply a layer of clear topcoat on the polish, and put the star shape on the nail immediately after.
For the last part, let the star shape stick firmly to the nail and then apply another layer of clear topcoat and let it dry once again.
Method 3 – Making the already-existing stars more obvious:
The third method concentrates on making the already-existing stars more obvious!
There are so many ways in which you can make the stars on your nails more obvious and here are some of them:
Glitter – It is an excellent idea to use glitter to enhance the stars on your nails, of course, as long as you use glitter that matches the colors of your polish and stars. You can choose to apply glitter only to the star, or you can choose to apply glitter around the star.
Size – Sometimes, it is a better idea to craft stars of different shapes, forms, and sizes. Two little stars placed beside a bigger star might make the bigger star more obvious! Or maybe even the finger where you decide to put the bigger star is essential.
Shooting star – Turning a simple star into a shooting star by drawing a few arching lines with the help of a brush creates the picture of a bigger star and makes it more visible…
Half of a star – Choosing to draw half of a star or two stars on the same nail and not a full star could be a better idea. If you draw two half stars on one nail and another full one on another nail, then the full star appears to be bigger than it is, so mission accomplished!
Star nails design ideas: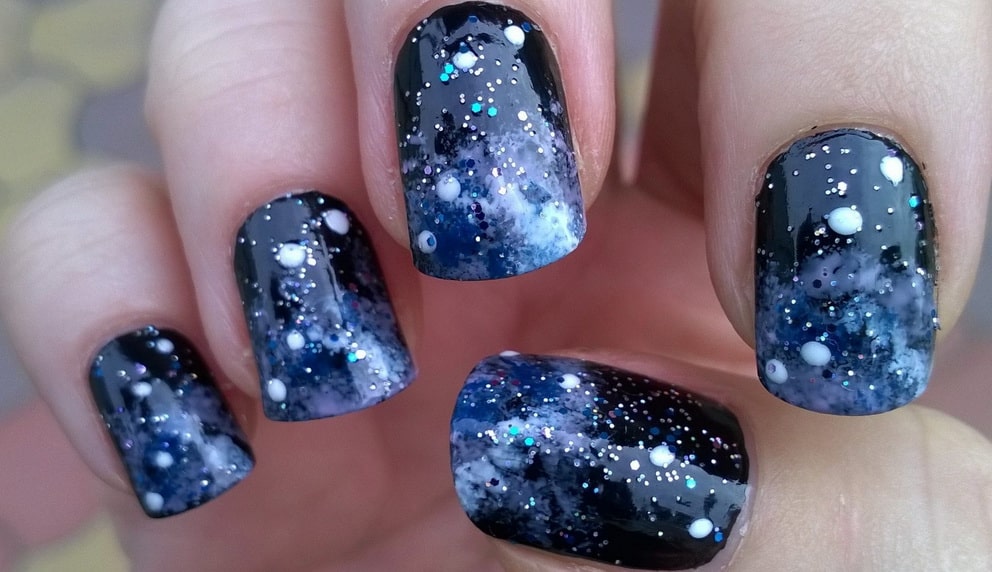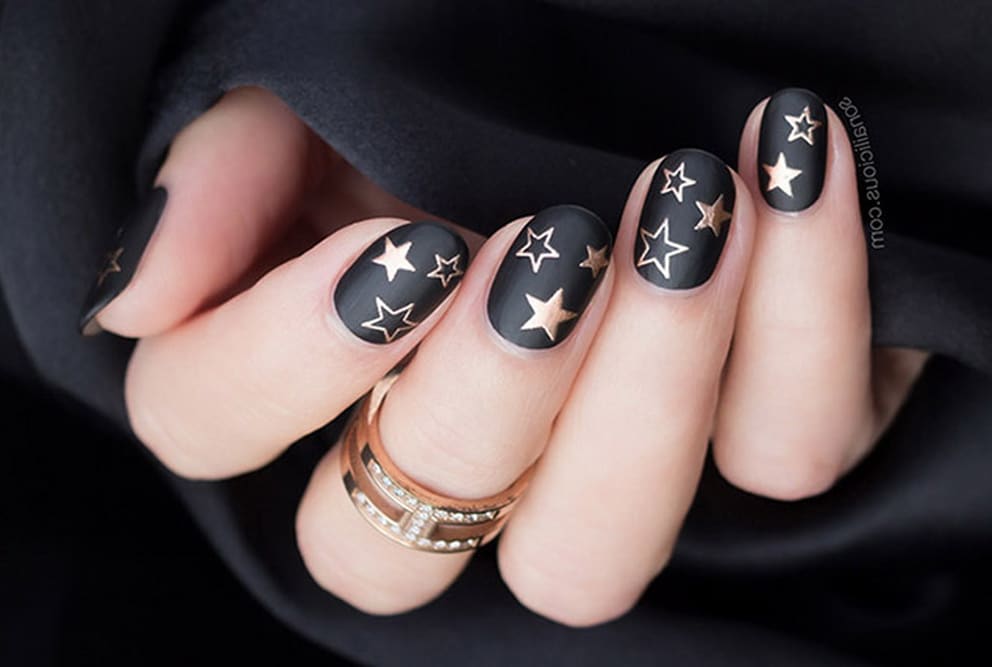 In conclusion, star nails are a quick, fun, and glamorous nail style you can resort to whenever you feel like surprising those around you! Even though they have been around for a while, star nails are still a high-end trend among nail art lovers and a go-to option most of the time for pretty much everyone…
Stars might be considered a common symbol that is too plain or too overused, which is not the case. Stars can be seen everywhere around us, especially on nails because they can be used in so many colors, shapes, forms, and sizes, shooting stars, glittery stars, each one of them embellishes our nails and puts to great use our creativity!