Matte nails are just like a breath of fresh air in a world in which almost every manicure is vibrant and glossy. On the other side of the spectrum, there are the darker shades, edgier styles, the well-known matte nails that are devoid of shine but only in a literal sense, because figuratively, they are one of the most captivating types of nails that the world has ever seen. It is no surprise that matte nails represent a trend that has been around for many years.
Who does not love some shiny finishes on a sleek manicure that can resist for a week? The majority of the trends that revolutionized the nail art industry are either glittery or shiny. Well, some people prefer non-standard manicures, nail styles that are not as glittery as others but remain classy, with a flat finish, the so-called matte nails.
Whether it is the red carpet, a fancy restaurant dinner, a runway, or just simply a walk in the park, or a line up to pay taxes, matte nails are never out of fashion or place. They are so adaptable that you can wear them with anything you want, whenever and wherever you want, there is no doubt, you will turn some heads. They are here to stay, and they will continue to be for many years to come. In a world of shiny nails, be a matte manicure!
What Are the Matte Nails?
In case you do not know what matte nails mean, it is essential to understand from the very beginning that they are rather new on the market.
Matte nails, opposed to the shiny nails that have a pearl-like finish, accustom to dry smoother than others and have a flat finish. Even though they come in a variety of colors, the most popular shades are usually the darkest ones, like grey. People often wear them because of their practicality, taking into consideration how quickly they dry, while men apply matte nails in darker shades to appear more trendy or edgy.
When Did Matte Nails Appear?
The exact origin of the matte nails is quite hard to pinpoint with certainty, especially taking into account that, during the most distant times, people were truly inventive, and most of the things that we enjoy today in the beauty industry were somehow sketched by them many years ago.
Nevertheless, matte nails were given the attention that they deserved in 2010, when the famous Alexander Wang promoted this new nail style on his Fall 2010 runway. This was the moment when people became fascinated by the matte manicure, and later on, this trend was included on the biggest runways at Catherine Malandrino, L.A.M.B., and DKNY.
What to Choose Between Matte and Glossy Nails?
Each person feels good to have the nails done by a professional. There are so many options people can choose from! As long as they are pretty, neat, and tidy, everyone is satisfied.
However, the question that pops up most of the time when doing your nails at a salon is whether you would like them to have a glossy or matte finish, which is mainly a matter of personal preference. Even so, it is quite challenging to decide right on the spot what kind of nails you want to rock for weeks to come. Which is better between matte and glossy nails? Firstly, there is no such thing as "the best nails style".
Once again, it is a matter of taste and needs, so it depends on each person's personal preference. On the one hand, matte nails illustrate a chic and modern alternative to the overly shiny nails. Coming in a wide range of colors, from the most vibrant to the darkest ones, matte nails seem to be a top choice for the majority of women. According to many statistics, women prefer matte nails, especially in darker tones, because they can resist for a longer time.
Each season, new types of matte colored nails appear on the market for both men and women. The latest acquisition in the nail art industry is the matte topcoats specifically designed to offer an extra layer of protection without taking from the matte look of the nails. On the other hand, the glossy nails are as popular as the matte nails.
The difference between the two of them is that glossy nails offer a shinier finish to the manicure; they are expressly created to provide a sparkle effect in the sunlight. Accessories such as rhinestones, precious gems, and sparkle help glossy nails achieve that pearly glow.
Another essential difference between glossy and matte nails is that the latter category proves to be a little more expensive than the glossy ones because they require more time and attention when being created, and they usually come from big brands. Even so, there is another possibility of crafting the perfect matte nails without spending too much on them, and that is: turning glossy nails into matte nails, processes that will be detailed in the following section.
Therefore, both nail styles are amazing in their way. However, you should take into consideration what type of outfit you decide to wear, where do you plan on wearing them and how does it complement your overall style.
How to Turn a Glossy Nail Polish into a Matte One?
Matte nails have become so fashionable lately that more and more people resort to applying them for different occasions. Matte nails come in a vast variety of colors; however, they tend to be more expensive than the glossy ones, which is a severe drawback when purchasing nail polish.
Therefore, people would rather buy a glossy nail polish and make it matte somehow. Well, now you can do it too. There are three different methods that you can use to create a matte finish without paying too much for it:
Method 1 – using cornstarch
Step 1
The first step to acquire cheap matte nails is to buff and file the nails properly, cleaning them as many times as necessary, before actually applying any nail polish. After you complete the previous steps, you are free to use a bottom coat of polish to the nails, but in a skinny layer. Wait for the first layer of polish to dry.
Step 2
The second step is to find an aluminum foil or some wax paper and pour some drops of nail polish on it. Then, make sure you have around you a toothpick and a recipient with cornstarch in it. Mix some cornstarch into the nail polish as quickly as you can, as the nail polish dries rather quickly. Make sure to put the right amount of cornstarch into the nail polish to avoid making it too thick to spread on the nails.
Step 3
The next step is to paint your nails with the polish with cornstarch by using a clean nail brush. It would be recommended to paint them in three stripes, one on the center and two on the sides, paying attention to the cuticles.
Step 4
The last step is to wait until the polish has dried off completely. Once the process is over, you will realize that after drying off, the polish has a non-glossy finish. Remember to not blow on your nails and to keep your nails spread on the table without moving them and without applying a top coat to this polish.
Method 2 – using a matte finish polish
Step 1
The first step to acquire matte nails is to purchase a matte nail polish, which is more expensive than the other nail polishes. They can be found in stores like Sephora or ULTA, made by brands such as Essie, Revlon, and OPI.
Step 2
The second step is to prepare your nails accordingly by fling and to buff them. Clean your nails thoroughly before applying nail polish on them because all ridges and dents can be easily seen if you do not pay attention.
Step 3
The next step is to use a cotton ball dipped in nail polish remover and wiped your nails once more. Make sure to go over every area to remove debris properly.
Step 4
After preparing your nails for the actual procedure, apply a bottom coat to your nails, in a skinny layer for each of them. When the bottom coat has almost dried off, proceed painting your nails with the color of your choice. Use the same motion as the previous method: one stroke in the center of the nails and two other strokes on the sides. Do not forget to leave a small gap between the edges of the nail and the nail polish to make it look professional.
Step 5
Once you have finished painting your nails and waiting for them to dry, use a Q-tip dipped in nail polish remover to wipe messy areas around the nails and let them dry completely. There is no need to apply any topcoats if you want to achieve a matte finish.
Step 1
The first step to acquire matte nails is to file, buff, and clean your nails thoroughly. Once you are done with the preparation process, continue applying a bottom coat and waiting for it to dry.
Step 2
The second step is to apply the nail polish in the color of your choice, not too thick and not too thin. Wipe any potential mistakes with Q-tip dipped in nail polish remover and wait for your nails to dry completely.
Step 3
The next step is to pour some water in a pan and to put it on a stove. After that, boil the water until you can see steam forming out of the pan as the steam will help you create a matte look.
Step 4
For the last part, all you need to do is to place your nails above the steam and let the steam engulf every part of the nail. It is just enough to hold the hand over the steam for 3-5 seconds. Be careful not to keep the hand too close to the pot for your safety. Check your nails periodically to make sure they look matte, and if there are any glossy parts, hold them over the steam for another 3-5 seconds until all of them are done.
How Long Do Matte Nails Resist?
Opinions are divided when it comes to the resistance and durability of the matte nails. Some people say that their ability to last for long periods is the reason why they end up opting for them. Some other people argue that matte nails tend to chip very easily. In general, this type of nail style tends to resist for considerable amounts of time.
Many of those people who work in front of a computer and have to type each day for hours say that their matte nails are doing a great job and that they do not chip that easily. Nevertheless, before judging, it is essential to take into consideration that glossier nails require topcoats, and topcoats provide durability, while matte nails do not include topcoats.
Moreover, it also depends on how much manual labor one person accustoms to do since some of the jobs are more physically demanding than others.
In conclusion, matte nails are an alternative to conventional glossy nails. People are usually reticent when it comes to trying new nail styles; however, matte nails know how to attract people, and they are continually perfecting their techniques.
Chic, classy, and stylish, matte nails can adapt to every occasion, time of the day, outfit and personal style. What differentiates them from other nail styles is the fact that, even though they are not too glittery or shiny, they represent an accessory that brings that freshness that each person needs.
Matte nails are not just an additional innovation in the nail art industry; they are a trendsetter in the true sense of the word!
1) Stylish Nail
These remarkable square cut nails go excellent with a tidy as well as easy matte gloss. Obviously, it is constantly an excellent concept to include an aspect of shock, with a vibrant shoelace motivated accent nail. The nuance of the neutral matte flawlessly triggers the dramatization of the accent nail.
2) Soft Matte Pink
When shaking something as showy as heel nails, it is never ever a poor concept to highlight soft shades as well as tones versus the more challenging lines of the stiletto cut. This soft pink matte ombré does that flawlessly. Include a touch of dramatization with some well-placed metal diamonds, and you have on your own an extremely trendy rock celebrity appearance.
3) Black Nail Art
A fantastic means to use a matte nail gloss is to put it together with several appearances. These nails highlight the range that is feasible with various surfaces alone. Positioning the matte gloss beside a traditional glossy nail as well as a lively glittery nail makes a best prime focus of the matte coating.
4) Red Matte
This appearance, with its crimson coloring as well as intense shimmering yet simple diamonds, is excellent for an unique evening out. If you pick to do your very own nail art in your home, one excellent choice with this layout is to use the ordinary matte nails throughout the day, after that include a little bling prior to navigating an evening on the community.
5) Matte Nail with a Strong Accent
With a smooth ballerina cut as well as a matte naked coating, these nails would certainly still be beautiful, yet might not stick out in a group. Nonetheless, when you include an entirely blinged out accent nail, they come to be anything yet average. Including a hefty layer of lively reflective diamonds takes this aim to an entire brand-new degree.
6) Matte Acrylic Nails
Perfect for a special day or for your following event, these vivid as well as lively argyle nails look excellent with a level matte coating. The shade set makes these nails function excellent with any type of attire and will certainly place a smile on the face of any individual that takes place to capture a glimpse.
7) Pastel Matte Nails
These delicious looking smooth yellow nails are similar to tasty Easter-time Jordan almonds. Including simply a tip of dawn pink as an accent separates the intense yellow as well as gives a cozy touch. An additional welcome enhancement is the pleasant as well as fragile row of little diamonds for simply a tip of prestige.
8) Matte Pink Ballerina
Pretty as well as stylish, these soft as well as pleasant pink nails can make any individual seem like a princess. The lengthy stylish contour of the ballerina reduced combined with the grainy pink tinting create a fragile as well as advanced appearance that will certainly function equally for a springtime wedding celebration, and for a day in the workplace.
9) Inspired Matte Layout
Any type of follower of the scary as well as wayward can value these charming nails with a touch of the macabre. With simply one accent nail on each hand, the layout is mainly matte black. This black base functions flawlessly to highlight the pleasant, lively skeletal system on one hand and the a little gory blood drip on the other.
10) Nude Nails
One extremely efficient means of styling your very own nails in your home is to opt for a cozy neutral-colored matte gloss. The matte coating includes a degree of passion, yet the criterion as well as easy nails and gloss make it a conveniently possible home appearance. Maintain this comfy brownish as a best choice all throughout autumn.
11) Easy Matte Pink
A simple DIY appearance, these intense pink charms can see you with whatever from wedding events to day, or evening; they are the excellent device for daily wear. This is particularly real throughout the springtime as well as summertime when this color of pink opts for whatever. Or, on the various other hand, it can be utilized to lighten up a freezing wintertime day.
12) Marble Matte Nails
Perfect for an expensive evening out, these lavish nails have everything. With mix as well as suit gems, crimson matte gloss, as well as accent marbling, they use a total and beautiful appearance. Set these nails with a straightforward set to allow them truly beam as the focal point of your devices.
13) Charming Black Matte Nail
That doesn't enjoy a little retro charming blended with some mindset? That is specifically what you got with these matte black nails that include a pop of pink polka dots. Compared beside a strong black nail with deep puncture its layout, the pink bow and nail include a substantial hug of gentleness to this dark, remarkable appearance.
14) Shiny Matte
Often the luster of your nail layout can get ignored when whatever flaunts the very same coating. To fix this, take into consideration mix as well as matching various appearances within the very same appearance. Doing so will certainly make both stick out in enjoyable and fascinating methods as well as is a straightforward means to expand your appearance without needing to include any type of various shades or made complex layouts.
15) Elegant Nail Art
Including a multi-textured matte nail versus a shiny black is a threat that seriously repays. The soft as well as intense shades stabilize the black flawlessly, as well as the solitary hair of silver radiance on each nail includes a much welcome shimmer to the total layout. With a couple of downy bits of white, this vibrant appearance is full.
16) Matte Peach Nails
A fantastic choice when you desire a something unique is to include a solitary sophisticated accent layout to a bare neutral-colored nail. This silver as well as black paisley-inspired nail attracts attention flawlessly versus the easy and tidy pink matte gloss. Make sure to maintain your nails at equivalent sizes for a perfect all-natural appearance.
17) Acrylic Matte Nails
Enjoyable nails constantly make an excellent perception, as well as this "barely there" elaborate layout is a wonderful lively nod to the traditional Irish cable television weaved coat. The matte coating is an extremely trendy means to integrate an engraved layout without needing any type of added shades or products. Coupling 2 cozy as well as tranquil shades match this stylish layout.
18) Black Matte Nails
When developing a total appearance utilizing your nails, it is necessary to keep in mind equilibrium. A simple means to do this is to match matte as well as shiny gloss. You can determine which nails to repaint in each design, yet make certain to maintain it also. To include a little panache, take into consideration a little tinted diamond on a nail or more.
19) White Matte Acrylic
This appearance, with its almond form as well as noir high qualities; is excellent for the glam rock celebrity in all people. Perfect for Halloween or a show, the matte nail produces a best combination for the matching tones and differed appearances of the spider web. Enjoy with the positioning and form of the web, as well as appreciate the scary outcomes!
20) Stiletto Nails
For a hip appearance with a small punk ambiance, these intense pastels on black are the excellent choice. The fashionable layouts make each nail one-of-a-kind, yet the expert as well as tidy lines maintain the entire item looking improved as well as brightened. Include a logo design, name, or little of bling for a customized touch.
21) Stiletto Black Nails
Blink a bit of your bare nail with this trendy angular matte gloss. Showing up to overlap, these geometric forms use enhancing shades with peach as well as navy, developing a modern-day and angular layout on an or else nude nail. Simplified yet vibrant, this is what you must use to go to an art exhibition.
22) Royal Blue
Among the most effective choices with matte nails is to maintain it extremely cool as well as tidy. If you go this course, pick a shade that can opt for anything and after that determine if you desire your nails to stand out or if you favor to maintain it refined. This extremely mild pink does an excellent task of straddling the line in between vibrant as well as fragile and an excellent choice for daily wear.
23) Red Matte with Black
Some nails are quite; various other nails make a declaration. This research study in nuance makes dazzling use neutral tones, blending a matte coating on one hand with a gloss coating on the various other. Right in the center of both hands is a showy white nail with 4 large black dots, like an ellipsis stating, "There's more glam where that came from…"
24) Long Orange
When embellishing your nails, it is necessary to keep in mind to enjoy. This beautiful collection does simply that by welcoming a lively spirit yet keeping an advanced lean. The clever as well as critical use diamonds offers the appearance simply the ideal pop as well as connection, while the matte nail gloss produces fascinating layouts without being ostentatious.
25) White Almond
There is no requirement to take a trip to the beauty salon for stunning nails: with this gloss, you can produce an excellent take a look at house by yourself. Make sure to correctly prep as well as form your nails, after that get your favored neutral as well as seasonal shade, use a couple of layers, and prior to you recognize it you will certainly be showing off extremely charming nails.
26) Light Blue
This mix as well as suit layout matches a smooth level-toned pink with an intriguing as well as distinctly made white as well as blueish layout. You can review this result either as marbling or as blue ink blood loss over white. Regardless, this interesting appearance will certainly come off as fascinating, yet entirely wearable.
27) Purple Ombre
A wonderful mix, these nails kindly match each various other as well as give their very own intrigue. The center nail undoubtedly glows as well as radiates with a shiny radiance gloss, yet the others definitely don't discolor right into the history, showing off abundant gold coloring as well as stand-apart matte maroon. When integrating various shades and designs, make certain to truly analyze completion outcome prior to starting.
28) Pink with Gems
Absolutely nothing is extra traditional or stylish than the French manicure. Making a large resurgence, this design is an excellent embarking on factor for enjoyable look. With lively accents consisting of a white as well as ruby follicle art as well as a ruby line on top of the nail, this layout is a unique spin on a traditional that is wedding-ready.
29) Black and Burgundy Ombre Nails
Matte gloss are among the most effective tools for developing elaborate layouts. They flaunt the musician's job with no luster or glimmer removing from the workmanship. These nails utilize enhancing shades to produce vibrant formed nails as well as solids that match flawlessly for a total appearance that is excellent for daily wear.
30) Nude with Black Accents
Often, the boldest declarations can be performed fairly merely. These nails strike a comparison in between the fragile womanly ballerina cut as well as the difficult seriousness that the matte black gloss gives. Easy to spruce up or down, there is a factor that black is a staple of lots of a closet which no gloss collection is full without a strong matte black.
31) Pink and Black
Sparkling as well as womanly, these 3 traditional layouts operate in tandem to produce a natural multi-faceted layout. The development is looped making use of shades that, while various, remain in the very same wheelhouse. The 3 various appearances likewise play well off of each various other, including aesthetic passion. Selecting a single-toned matte as the focal point is a vibrant selection that supports the appearance.
32) Matte Burgundy
Couple of nail choices set several strong shades together with an accent nail, yet these charming as well as pleasant pink nails do simply that, as well as they do it snappy. Selecting 2 tones of the very same shade gives comparison while keeping simpleness. This is excellent when coupled with an anything-but-simple amazing shimmering accent nail.
33) Mauve Nails
If you're looking for an appearance that opts for both your denims and your little black gown, these nails pass the examination with flying shades. Super trendy as well as classy, the silver aluminum foil accent uses simply the correct amount of pow as well as will certainly bring you and your nails the ideal sort of focus. The almond form maintains these nails a polished choice for daily wear.
34) Lavender
As fresh as a breath of tidy springtime air, this OPI nail lacquer is extremely charming and certain to brighten your day. Matching the shade of a clear skies, these nails will certainly bring you a little sunlight. Their a little beige coloring provides simply the sweetest little tip of enjoyable, and the matte coating maintains them looking friendly as well as pleasant.
35) Grey Nails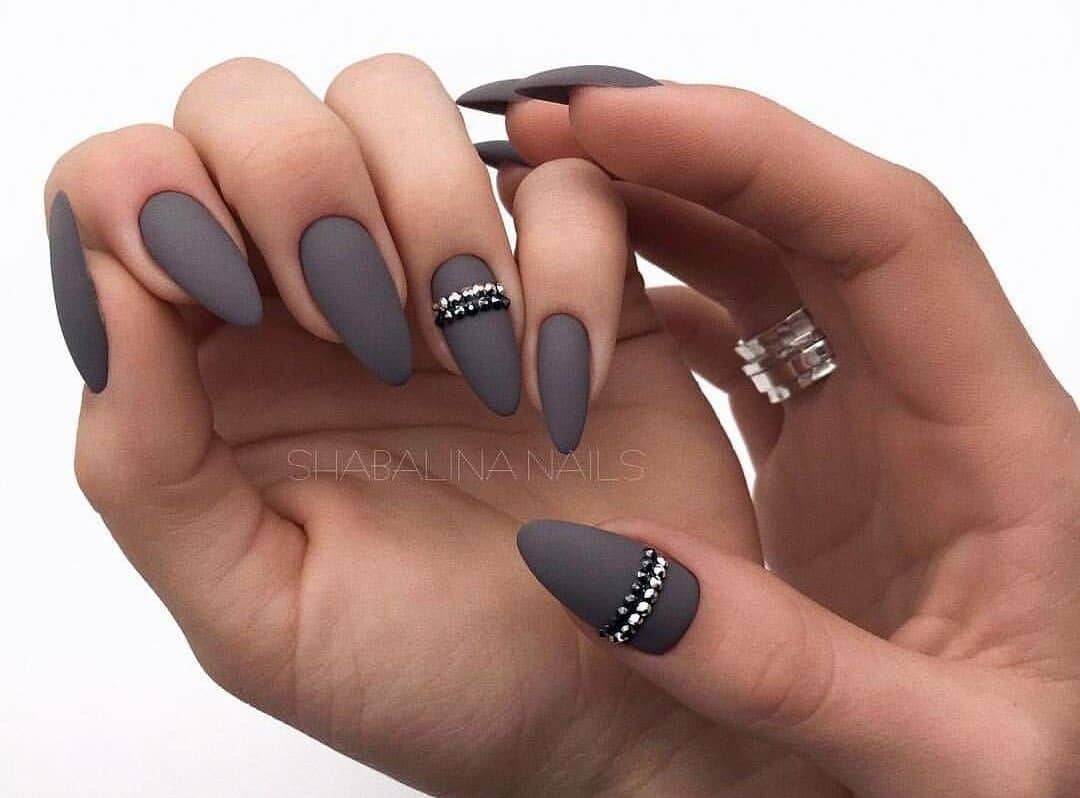 Often, it is best to go big or go home. These nails struck it out of the park with their vivid as well as exotic motivation, yet they maintain points smooth with a couple of matte nails included. Rotating in between vibrant and kicked back, the sophisticated art work is magnificent, as well as the diamond pinkie is definitely a showstopper per se.
36) Royal Green
This smooth gel gloss uses simply the tiniest tip of a shine and will certainly fill out your nails flawlessly from follicle to pointer. With a small kiss of pink, this shade would certainly likewise offer well as a base needs to you pick to include an accent nail. Easy to couple with darks or lights, these nails are an excellent enhancement to the collection.
37) Gold Matte
If you are trying to find bold declaration nails, look no more. These tasty and succulent intense orange nails will certainly make you really feel big and accountable, allowing everybody recognize that you indicate service. With a touch of diamonds to provide a tip of gentleness, you can shake these matte nails with the most effective and boldest design.
38) Green with Glitters
Heel nails talk quantities simply by their form. They release an air of self-confidence as well as self-reliance with their lengthy detail. The very best means to boost as well as highlight this appearance is with a neutral and advanced combination. This cozy, mild brownish is a little yet distinctive comparison to the vibrant intensity of the heel, developing a total appearance.
39) Geometric Red, Black, and White
This matte nail layout is quite enjoyable, flaunting mild beige coloring and an extremely charming bow connection beauty device. These nails are among the most effective wedding celebration nail choices, as they are classy with a scheming little wink. Greater than simply an accessory nail, the bow connection beauty includes an entire brand-new component as well as shimmer to this appearance.
40) Elegant Burgundy
You've become aware of the great smoky eye; currently attempt it out with your nails! This dark as well as strange coloring is given birth to with the selection to utilize both matte and shiny tones. Not fairly as extreme as black, the dark grey non-color is much less typically utilized as well as produces a cool "hidden in the shadows" ambiance.
41) Elegant Blue with Gems
These remarkable matte nails are so lively and enjoyable, they make you wish to toss on your two-piece as well as struck the browse. Great for a swimming pool event or for brightening your day, pineapples have actually had their location in art for years, making them an excellent selection for your matte accent nails.
42) Matte Black Stiletto Nails
Simple yet stunning, these tidy and stylish matte nails are an excellent means to show your stunning as well as healthy and balanced all-natural nails while still including some glam and decoration. The triangular pointer layout virtually appears like a hill top, as well as a little ruby device includes a fragile touch, virtually like a celebrity expenses.
43) Black Almond Nails
When you desire the most effective of all globes, assemble a collection of nails like these. Using stunning strong matte nails, elaborately made lacy patterns, as well as an ombré radiance result, this enjoyable, and extravagant collection is excellent for an evening out. The total matte coating displays the complexities of the shoelace nail and makes the shimmer of the radiance truly pop.
44) Black and Silver
The very first step in developing effective matte nails is to pick an attractive shade. Making a decision which means you wish to go – vibrant or refined, shiny or matte – can truly influence the result of your appearance. The selections made right here produce this magnificent collection of nails, and the lovely bejeweled thumb perfectly rounds whatever off.
45) Maroon Matte
Gray as well as interesting, these nails utilize the matte coating in unusual and amazing methods. On the third finger, the matte nail plays base to an identically tinted shiny pointer, while at the facility of the item the beautiful matte black climbed includes deepness and dramatization to this trendy and stylish appearance.
46) Long Matte
Delicately formed making use of a data, these a little sharp all-natural nails make a strong base for this delighted matte eco-friendly gloss. Easy to achieve in your home, you can recreate this look any type of day of the week to include a little springtime to your action. Do not hesitate to include several shades or an accent nail to cheer it up.
47) Blue Tip
Matte nails are the most effective choice when you wish to utilize sticker label art, as the matte coating doesn't take anything far from the stunning art. This layout perfectly takes a shade tip from the stunning sticker label art and uses it in a charming matte tone to the remainder of the hand to highlight the beautiful butterfly art at the heart of this layout.
48) Green Matte
These nails are an excellent instance of taking easy matte nails and bringing them up a notch. The rather low-key matte nails operate in tandem with the vibrant radiance accent for a total appearance. With a style similar to this, if you do your very own nails, you have the choice to go complete neutral for the day, after that include the radiance for an enjoyable evening out.
49) Silver With Glitter
Every person appreciates the style, elegance, as well as beautiful colorings of the peacock. So why not attempt these shades out on your own in a magnificent matte nail layout? Beside the appearance are 2 show-stopping, multi-colored nails that completely accept the magic of the peacock. These are after that based by the striking matte eco-friendly nails to produce a total collection.
50) Short burgundy
Perfect for a touch of the fragile, this solitary lace-inspired nail looks so pleasant established versus multi-toned blues. Next off, to the matte coating of heaven nails, the elaborate layout of the shoelace nail truly radiates with, enabling you to discover value every little information. These nails are excellent for daily wear or an enchanting evening…