Medium haircuts are trendy among women, but every woman goes through at least one moment when she wants a change of look. If she has the courage, she may wish to a radical one.
The medium haircut also has an explanation for its popularity: it is easy to maintain and it is very versatile when it comes to hairstyles. Medium length hair is effortless to arrange, whether you have thick or thin hair, regardless of color or texture. Apart from color and length, the style in which a woman wears her hair can say a lot.
But when it comes to hair, impulse decisions aren't exactly good. So, if you want to know the right medium haircut for your face, which hairstyles fit you, some tips & tricks, and a few hairstyle tutorials, this article Is for you and your next salon visit.
If she does not feel attractive one day or does not want to be attractive, she will "hide" her hair in some way or wear a hat. In this way, it diminishes the focus on it. However, when things are the other way around, and the woman wants to be desired, she will wear her hair free as long as possible.
Face shape is an important aspect to consider when choosing your hairstyle. Some medium haircuts and styles can highlight your features even more, while others may blur others. For example, people with elongated faces should avoid straight hair and the middle path because they will lengthen their faces even more. Bangs are suitable for people who have an elongated face. Further, you will find many medium haircuts and hairstyles ideas for medium hair depending on the shape of the face.
Medium Haircuts for Oval Faces
People with oval face are the luckiest. They have the most suitable face for any haircut. Medium haircut is ideal for oval girls, as a haircut is needed to "shorten" the length of the face. Also, you need a hairstyle that accentuates the structure of the cheeks.
The bangs are worth considering for medium haircuts. It is preferable, however, to seek the advice of a stylist, because there are many factors to consider when choosing medium length haircuts: age, profession, length, and texture of hair.
How do you know if you have an oval face: 
the length of the face is greater than the width.
The forehead is wider than the chin.
The jawline is better contoured than in people with a round face.
You can arrange your hair in the form of light curls, bob, A-shaped bob, bold curls, or medium length haircuts in stairs.
Medium Haircuts for Round Face 
The most common variant of medium length haircuts for round face is bob, in various forms of styling. For people with a round face, the most suitable hairstyle is with the hair on the shoulders, or even longer, which will outline and lengthen the face. You can also try the medium haircuts for women with bangs, not classic, but asymmetrical, which will bring angles to your perfectly round face.
Pay attention to the loops when considering medium haircuts for women! It is not recommended to make curls if you have a round face because they can give volume on the horizontal, and you will look even more "fluffy."
How do you know if you have a round face:
The forehead, cheeks, and jawline are in the same line and have the same width.
The length and width of the face are the same.
You have no sharp angles on the face.
Medium Haircuts for Square Face
Women with a square face primarily need volume because it will help lengthen the face. Then they need a haircut to correct their jawline, which is very prominent.
The light loops help to smooth out this prominent feature. Avoid strong curls the entire length of your hair. These will accentuate the foreskin of the face.
Stay away from medium haircuts for women with the straight bangs because it will make your face even more square! The bangs, on the one hand, suits you best. Asymmetry helps you to lessen the shape of your face and avoids the middle path.
Medium length haircuts with volume at the top of the head and "teased"  hair can help lengthen the face. For a successful result, leave a few strands along the face.
How do you know if you have a square face:
The cheeks and jawline are very well defined.
Sharp angles, especially at the level of the jaw.
Medium Haircuts for the Diamond-Shaped Face
The diamond-shaped face has the widest portion in the cheekbones area. Victoria Beckham is the right celebrity to illustrate this face shape, and her bob haircut was not so successful. The asymmetrical bob haircut is best suited for the diamond-shaped face. If you want a longer length, you must know that the best medium length haircuts are the one that includes stairs. You need the different lengths of hair to distract from the shape of the face, and the strands must be up to the chin.
The way you arrange the medium length haircuts is also essential—a hairstyle with a deep path to one side. You create contrast by tearing one side of the face.
Trends And Ideas for Medium Haircuts
Edgy Haircut
If you're feeling adventurous and want something new, try an edgy haircut. Let your personality come to the surface by the style in which you arrange your hair. Try medium length haircuts with different lengths of hair from one side to the other, or if you have curly hair, leave it natural and messy. Some medium haircuts for women involve technique, so go to a trusted hairstylist to try such a hairstyle.
Asymmetrical Hairstyles
Asymmetrical hairstyles for medium hair is a way to stand out through your look. If you like to stand out through your look and want something different, try an asymmetrical hairstyle.
These asymmetrical haircuts are suitable and even indicated if you have a diamond or even elongated face. These asymmetrical haircuts are not necessarily ideal for straight hair but also wavy hair.
Asymmetrical haircuts can be extravagant haircuts if you don't normally like to stand out, but the good part about these modern medium haircuts for women is that if you don't like it, you can match your hair level and you're ready.
Hairstyles for Medium Wavy Hair 
Medium wavy hair can be a very chic look. The medium haircuts for women can be elegant haircuts when the event requires it, or they can be playful haircuts suitable for a casual look. You can choose to wear extravagant medium haircuts for women if you want not only extremely defined loops but also asymmetrical haircuts and bangs. It is a very suitable hairstyle for adolescents because it can be adapted for both adolescents and even women over 50, depending on the medium haircuts and style.
How Do You Know if the Medium Hair Fits You?
There is a simple technique that helps you make the right decision when thinking about a medium haircut. It's a method called "Rule 2.25", discovered by John Frieda, a famous London hairdresser and founder of the hair care products brand that bears his name.
Place a pencil under the chin, horizontally, then extend the centimeter to the ear lobe. Finally, you should get an angle of 90 degrees.
Step two is to measure the distance between the ear lobe and the point where the centimeter intersects with the pencil. If this is less than 2.25 inches, about 5.70 centimeters, then the short haircut will fit your physiognomy harmoniously. However, if the distance is greater than 2.25 inches, it would be best to keep your hair long to maintain the balance of your face.
 If you have cut your hair and now you regret it, or you became bored of your medium haircut, and you want to have longer hair, there are some tips and tricks you should be aware of. 
What helps hair grow?
We recommend a two-way approach to hair growth:
First of all, we recommend that you follow a delicate hair care routine (described below). Treat your hair as if it were made of gold, and it will reward you by staying healthy. The trick to growing long hair is to keep it as healthy as possible to prevent breakage and split ends. The less the strands split, the longer the hair grows.
Second, make sure you get the best nutrients to support healthy hair growth. You can get all these nutrients by approaching a diet rich in proteins, plants, and fruits. Or administer a hair growth supplement.
Hair growth tips
Consistently follow these tips to help optimize hair growth by limiting breakage:
Trim your hair regularly to maintain healthy hair and minimize breakage as it grows. When left untouched, the split ends may extend along the length of the wire, causing the wire to break.
Shampoo your hair two to three times a week using a gentle shampoo. Washing your hair too much can remove its natural moisturizing oils, which keep it looking shiny and healthy.
As you wash your hair, massage the scalp with your fingertips to increase the circulation of the hair follicles, which will bring more oxygen and nutrients to the follicles through the bloodstream.
After washing, apply a conditioner to moisturize the tips. The balms also improve the hair's resistance by sealing the cuticle, thus preventing the strands from drying out.
If the length of the hair goes beyond the shoulders, that hair is at least one year old and requires special attention to prevent breakage. Treat your hair weekly with a moisturizing mask or hot oil treatment. Apply the mask to damp hair, allow it to stand for at least 20 minutes (although preferred overnight), then shampoo and apply normal conditioner.
Be very careful when combing or combing your hair. Always start from the roots and slowly move to the peaks. Use a rare-tooth comb on damp hair, or better, avoid combing because it is much more fragile than dry hair.
It embraces the natural texture of the hair, allowing the hair to dry naturally and jumping over the plaque or curl. Wear braided hair to prevent tangle and breakage.
How to Arrange Your Medium Haircuts – Hairstyle Tutorials
Medium hair can be challenging to tune, especially if we want to comb it in an elaborate style elegantly. See how you can make a cool hairstyle like a pro, without a specialist's help.
Messy bun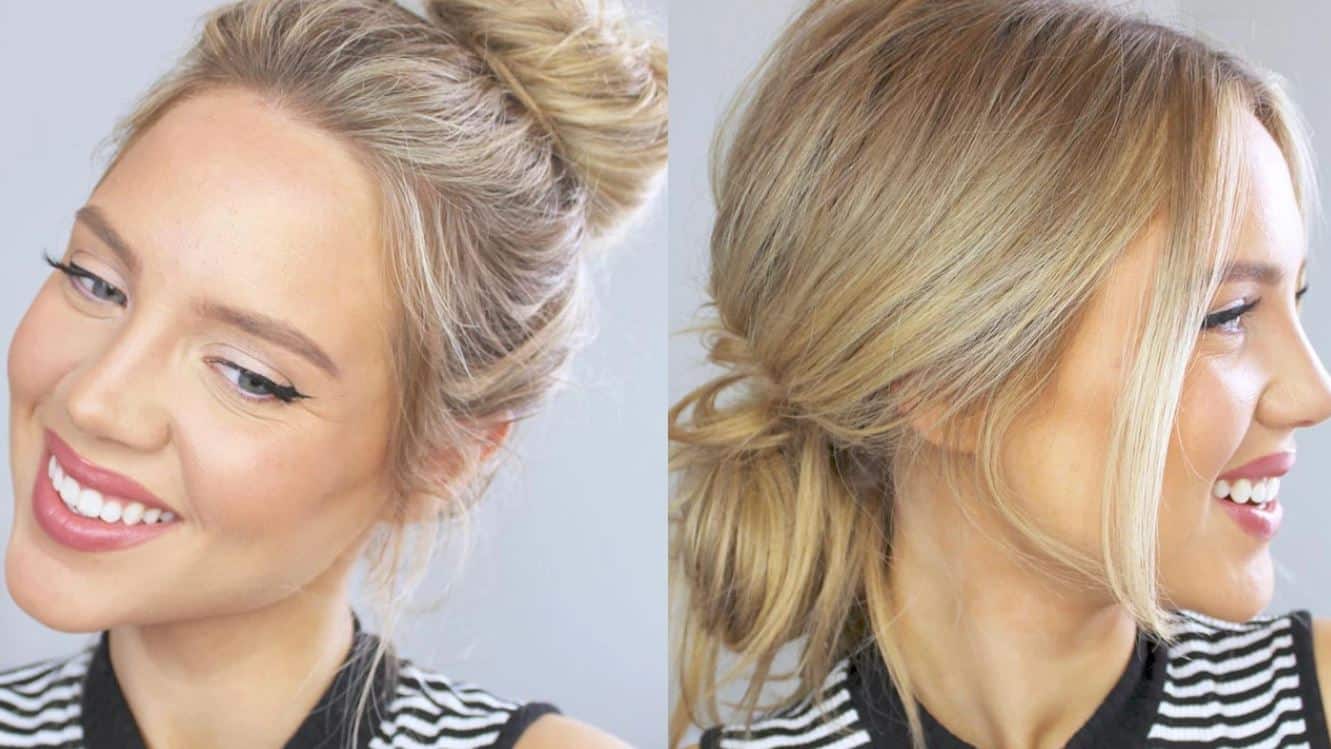 Medium hair causes some problems when it comes to hairstyling as a bun. Most often, the main problem is the too-short straps on the neck, which do not get caught but hangs unsightly at the back, or, worse, get rid of the bun. Steps for messy bun:
The hair is fastened with your fingers starting from the ear area so that you create a horizontal line in the middle of the head. This does not have to be very straight, because the braided tail will cover it.
Leave the short wedges on the neck for the braided tail. The top is lifted as far as possible and is tied with an elastic wrapped twice around the hair.
When you retake your hair,  do not entirely take it, and thus, you will get a careless negligible, which can be pulled and brushed at will and opportunity.
The ends of the "fan" in the hair are fastened with scalp clips to reduce the elastic space created between the neck and the head.
The hair left behind is braided upwards, towards the elbow and fastened with clips.
Fast loops in 10 minutes
You want loops for medium haircuts, and you don't have time to call your stylist? You can make at your own home some adorable curls. Steps:
First, you have to brush your hair very well.
Then you divide it into two sides
You take the first side and twist it carefully and then you use the hair straightener and gently press each section of the hair that you twisted.
Repeat the process for the second part.
Shake your head a little and done, fix with spray, and your curls are ready!
Headband braiding
You start by separating a hair strand from the bottom side and braid it.
Take the strand on the opposite side, and repeat the process with another strand from here and also take it on the opposite side.
Fix the tips with two clips.
Spray them for a better resistance.
Done! Your headband is ready.
1. Wavy Blond Hairstyle
Make a declaration with this platinum blonde hairstyle that drops simply over the shoulders when crinkled. The side brushed up appearance offers it an extravagant, elegant kind of ambiance. Head over to Feeling & Embellishment to learn exactly how to complete this appearance with your very own hair. This is one of the most amazing medium haircuts.
2. Medium Hairstyle with Bangs
If straight medium haircuts are your extra point, offer this attractive lengthy bob a shot. The candid cut bangs offer it an incredibly special feeling, while the carefully crinkled ends maintain it fine-tuned.
3. Wavy Ombre Hairstyle
Like the very first design, this is bumpy – yet these waves are far more unwinded and also laid-back looking. And also, the ombre hair shade truly flaunts the swirls. The lengthy, side brushed up bangs include an extra little bit of structure to this medium size cut. Head over right here to examine it out.
4. Medium Straight Hairstyle
For an incredibly specialist appearance, go with these ultra-refined straight medium haircuts that strikes listed below the shoulder. Completions are crinkled under simply a little, and also, there is minimal layering and also no fishing.
5. Beachy Waves
This rough cut is best for any person seeking a medium size design that's reduced upkeep. The cut is candid, and also the fast and also simple waves are styled with your fingers.
6. Curly With Bangs
Ladies with curly hair can shake bangs with medium haircuts too! These medium haircuts develop a rounded, soft appearance that will certainly mount the face and also produce a cozy appearance. The bangs are not reduced candidly, more including in the flexible design.
7. Split Medium Cut
This split appearance can offer great hair some major quantity, and also it will certainly mount your face flawlessly. The front of the hair is angled a little bit to increase the quantity better.
8. Flirty Waves
Cut pieces layers right into your hair to attain this teasing appearance with loosened swirls. The unwinded ambiance offers a web surfer woman feel, more emphasized by her rather highlighted brownish hair shade.
9. Super Layers
This appearance for medium haircuts includes a variety of various components – the cut has a lot of layers, offering the top of the hair great deals of quantity and also all-time low a fresh smooth appearance. Emphasizes and also lowlights likewise contribute to the severe comparison of this special medium size design.
10. High Reduced Design
These medium haircuts has an enjoyable high reduced impact, with the rear of the hair winding up much shorter than the front. Lengthy layers right around offer it some major effect. And also, among the wonderful advantages of this design is that if you place your hair up in a braid, you won't have much shorter items befalling. Have a look at even more designs right here.
11. Thick Curls
This very curly design is best for any person with waves on medium haircuts, and also can be accomplished by reducing lengthy layers right into hair when aligned and after that cleaning it and also coiffure it with a diffuser and also designing creme.
12. Thick Retro Bangs
Cut some retro edge right into your medium haircuts if you have thick hair and also a love for traditional design. The secret right here is to have your stylist reduced the bangs on the medium haircuts, so they range from the top of your head right down over your brows.
13. Layers, Layers, Layers
These medium haircuts are exceptional – the layers are reduced right into the hair beginning over the years, and also are so severe that the lower layer of hair that stays is fairly slim.
14. Enchanting Swirls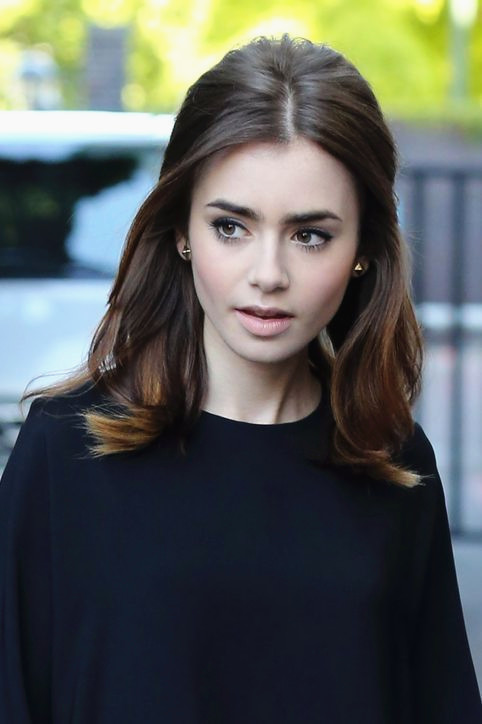 If charming waves are your extra point on the medium haircuts, you may take into consideration offering this design a shot. The cut is fairly standard, with just a couple of lengthy layers. The secret is to draw the leading fifty percent of the hair back and also leave some bits complimentary around your face. Head over to Top hair to take a look at a few other suggestions.
15. Brief Bangs
Opt for a somewhat different appearance with these very brief bangs on medium length haircuts. They ought to be sliced off an excellent inch over the brows for optimal impact.
16. Classic Waves
This special design has a distinctly classic feeling, comparable to hairdos that were prominent back in the 1950s. Most of the hair is reduced to a uniform size, while lengthy side brushed up bangs offer to mount your face.
17. Smooth and also Straight
Heidi Klum reveals that smooth and also straight with bangs is an incredibly fashionable appearance. The secret right here is to have your stylist reduced great deals of layers right into your hair, and also to cut bangs with an edge kind of design.
18. Unbalanced Cut
If you're seeking an unusual style for medium length haircuts, this unbalanced one may be worth taking into consideration. One side is much shorter than the various other, while the side brushed up bangs circulation down right into a much longer area beyond. Have a look at this and also various other designs here.
19. Flipped out Hairstyle
This appealing appearance is accomplished by reducing lengthy layers in the hair right around and after that crinkling the hair exterior near the bottom. The leading layers are crinkled internal, producing a complementary, large appearance.
20. Soft Waves
Right here, we have medium size designs with light soft waves on medium length haircuts. The hair is reduced the number of inches listed below the shoulder, without layering yet some fishing around the face.
21. Side Swept Bangs
These charming medium length haircuts have an incredibly smooth appearance with a soft side brushed up bangs. The longer size is complementary with its carefully turned-under ends, while the bangs offer a fashionable ambiance to the appearance.
22. Distinctive Cut
These designs for medium length haircuts are focusing on the structure. Layers upon layers are reduced right into the hair, along with lengthy bangs – while blonde highlights and also brownish lowlights emphasize those vibrant appearances.
23. Blunt Shoulder Size Cut
These are special medium length haircuts that would certainly be best for any person seeking a strong declaration design. The secret to this is to reduce the hair candidly around an all-time low, and also to design it by brushing the sides back right into a large bulge on the top. See this and also various other suggestions right here.
24. Chunky Waves
These designs on medium length haircuts are uncommon because the back is much shorter than the front. This is mix with the lengthy, blunt-cut bangs that create an attractive appearance. And also, the waves include some major structures.
26. Shoulder-Length Waves.
Platinum shade makes the curly shoulder-length bob pop. Will you be the one to use it?
27. Shaggy Cut with Drape Bangs.
To make a shoulder-length hairstyle for ladies, offer it some effortless shaggy waves. Stylish!
28. Uneven Highlighted Hairdo.
For ladies with medium size hair, beefy gold highlights will certainly spruce up the cut as well as make the untidy waves rather.
29. Straight Angled Cut.
The straight medium bob is the best hairdo if you such as to use your hair down as well as appreciate its motion.
30. Soft Swoopy Layers.
Medium hairstyles for ladies are stunning in blowouts where you can display the circulation of your layers as well as shade change.
31. Midi Hairstyle with Turned up Ends.
A medium split hairstyle works with ladies of any age.
32. Collarbone Messy Upside Down-Cut.
The partial balayage freshens the tilted bob producing the very best bedhead search for medium hair.
33. Medium Razored Cut.
Feathery shoulder size hairdos for ladies are constantly in. Run your fingers with a few items with your layers for fast design.
34. Lengthened Front Hairstyle.
Mid-length hairstyles for ladies obtain a magnificent touch of design with lengthy rough layers as well as balayage highlights.
35. Medium Shag with Bent Waves.
Balayage highlights on a medium split haircut are reduced upkeep means to make the design your very own.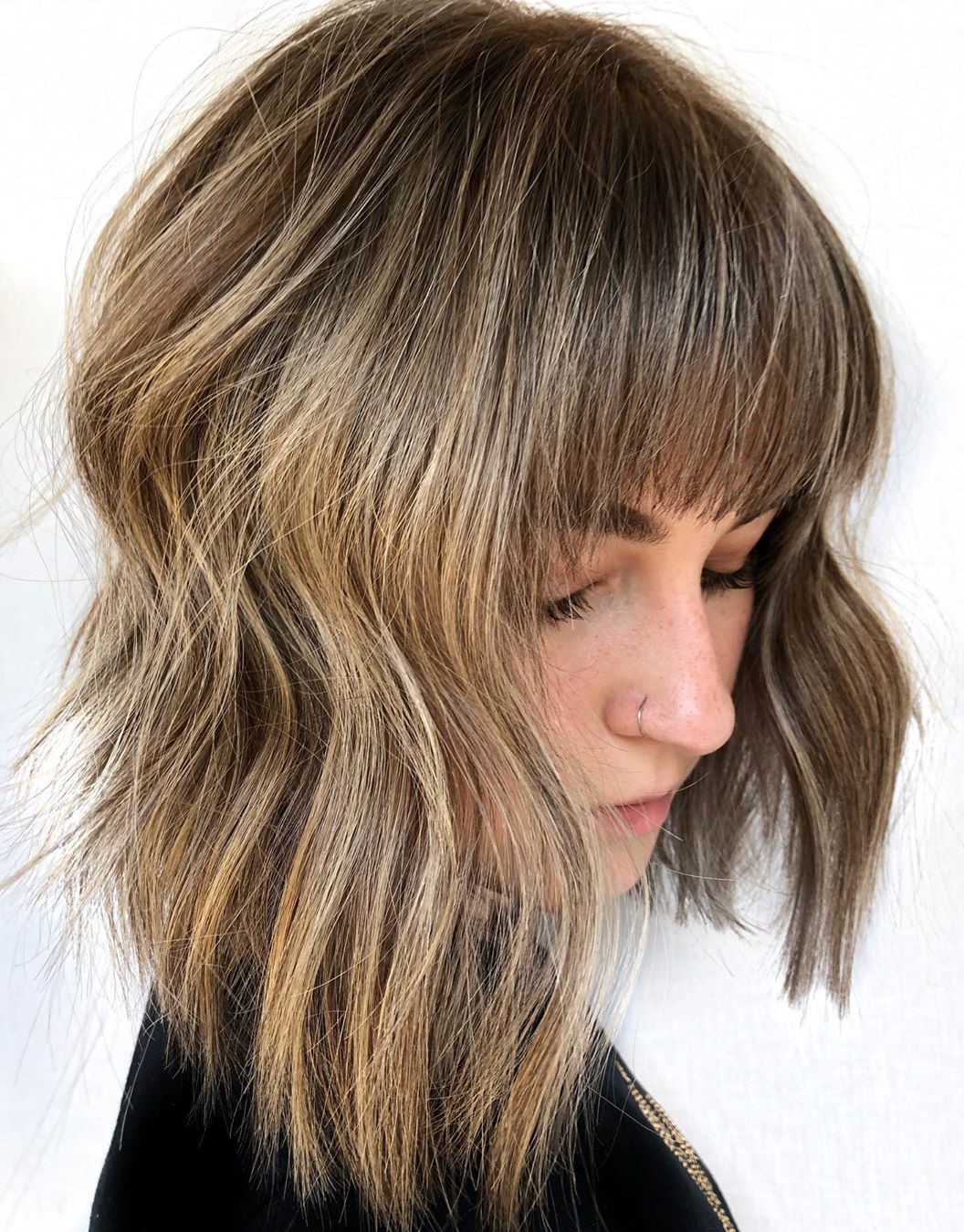 36. Medium Cut with Face-Framing Layers.
To get among the very best brief to medium hairstyles for ladies, update your standard one-length cut with feathery face-framing layers as well as a brand-new glowing shade.
37. Unpleasant Mid-Length Cut.
These medium length haircuts for ladies represent a brand-new view of life with brand-new layers. You might maintain the same size as well as attempt a various type of layers whenever you freshen your cut. Uneven layers are an excellent beginning.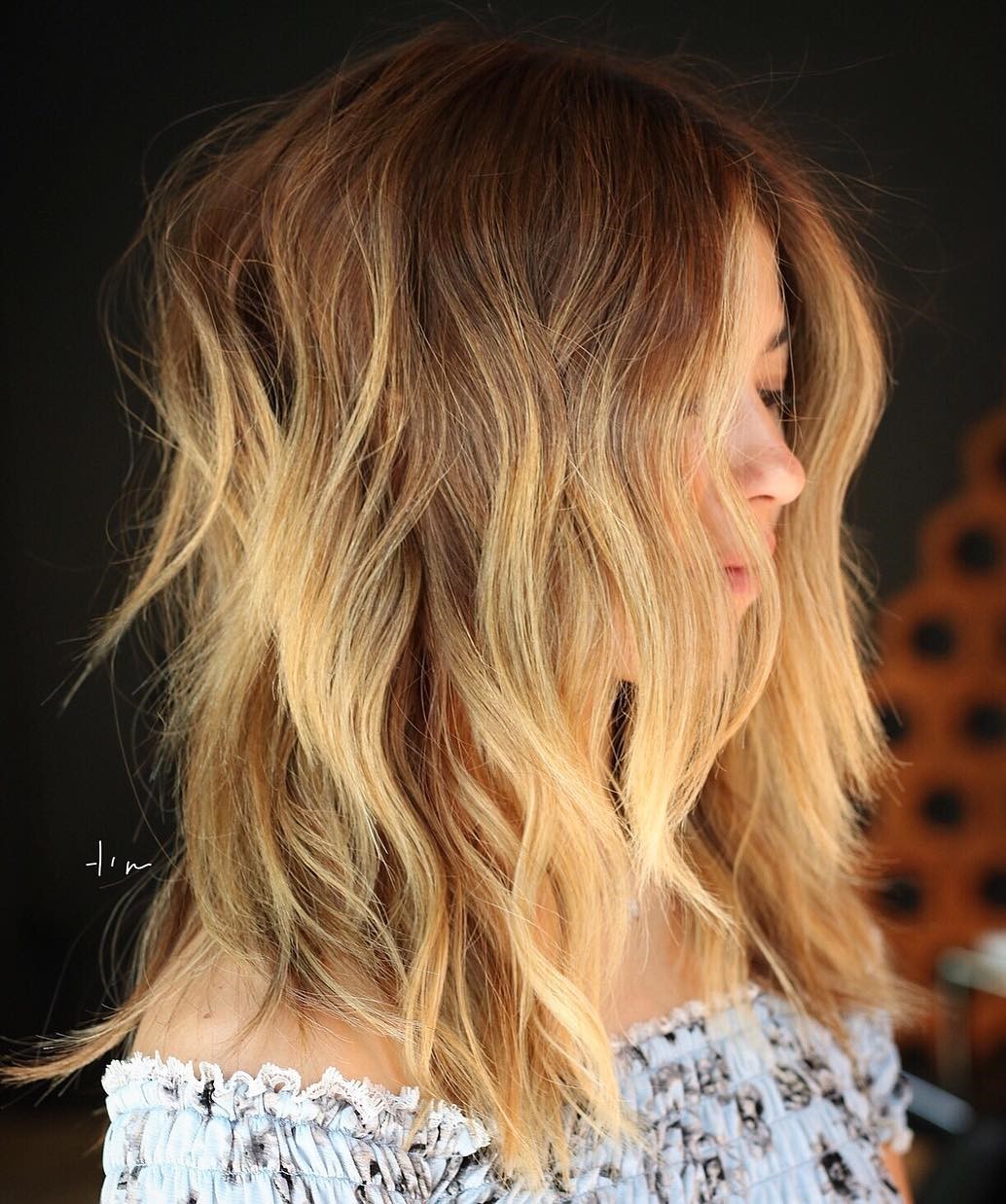 38. Medium Thin Hair.
If you have thin hair, attempt it in a cute bob with brief piece-y layers.
39. Fancy Down with Dimensional Waves.
If having fun with shade is your point, balayage highlights on medium size hairstyles for ladies are a chance to disclose your imagination.
40. Timeless Medium Hairstyle.
The timeless blonde bob is easy yet constantly stylishly, in addition to its reduced upkeep.
41. Curly Medium Hair.
For ladies with curly hair, you'll like the means a shoulder-length cut flatters you, whatever deal with the form you have.
42. Wavy Shag.
For 2020, distinctive lobs will undoubtedly be almost everywhere. To get the design, request for sharp ends, tousled waves, as well as a facility component.
43. Crisp Angled Hairdo.
Not prepared to make a huge slice? A tilted hairstyle is simply sufficient for an adjustment that will certainly be obvious yet not also significant.
44. Slender Cut with Flipped Layers.
If you have great hair, a slender bob with distinctive layers, as well as highlights, will certainly assist you to seem like you have fuller hair.
45. Smooth Flowy Down.
With a glossy as well as smooth lob such as this, you'll appear as you've gotten out of a hair commercial.
46. Blowout for Fine Hair.
The prominent blonde bob is summer-ready as well as cheers up any skin tone.
47. Piece-y Mid-Length Cut.
A medium hairstyle with distinctive ends is the best base for a standout balayage shade.
48. Medium Cut for Round Face.
Ladies with rounded faces will certainly value the means a medium haircut with bangs and angled layers lengthen as well as loses weight the face.
49. Distinctive Collarbone-Length Hair.
Get a distinctive cut as well as decrease the moment you invest in styling every early morning.
50. Hairdo for Oval Face.
The stylish A-line bob is similarly complimentary for older ladies as well as more youthful ladies. Attempt it with a side component for a beautiful peek-a-boo appearance.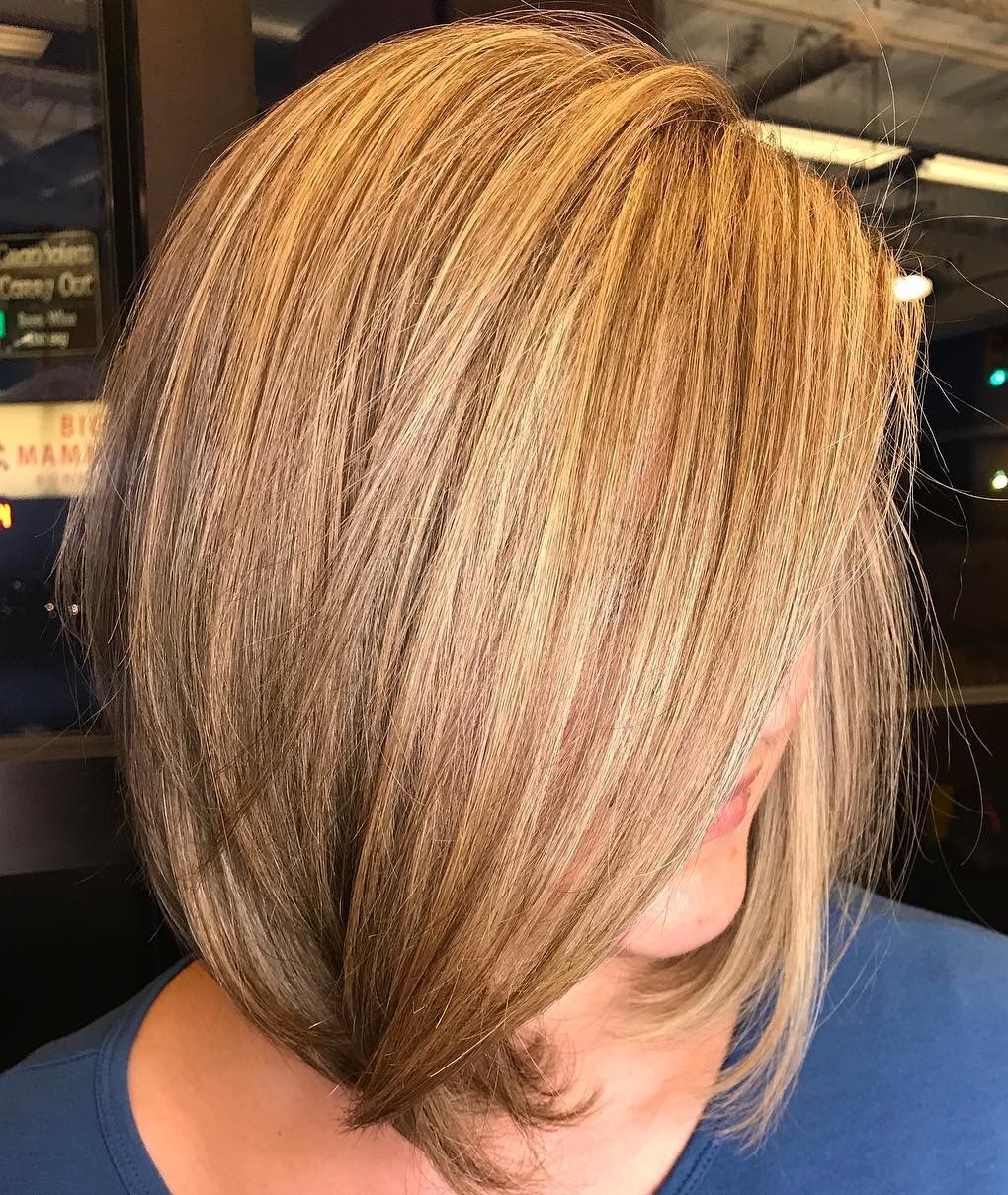 51. Slender Shag for Great Hair.
For ladies over 50, a straight crisp bob with bangs will certainly assist you feel posh as well as young.
52. Curly Hairstyle.
Do you have curly hair? Suffice right into a charming bob with layers and take pleasure in the excellent bounce as well as the airiness of your swirls.
53. Icy Layers.
Does that claim you can use ice blonde just in winter months? Match your preferred split bob with the awesome shade for a magnificent design that will certainly beam all the time.
54. Face-Framing Emphasizes.
Highlight your wavy lobby highlighting just face-framing items. These will certainly illuminate your skin tone as well as eyes.
55. Smashed Piece-y Shag.
If you have great or slim hair, it will certainly acquire quantity as well as an appearance with a shaggy lob, including great deals of untidy layers up top.
56. Beachy Waves.
If your hair has an all-natural wave, attempt to air completely dry it without brushing. These untidy waves appear to be styled by the ocean breeze.
57. Shoulder-Length Centre-Parted Hair.
Beginning the brand-new year off with a makeover. The fresh clipped shoulder-length hairdo with a facility component is understatedly rather.
58. Appealing Upside Down Hairdo.
This lob captures your eye with its stylish angles as well as a beautiful balayage mix of awesome and cozy blonds – fantastic!
59. Uneven Cut with Darkness
If you like having fun with contrasts, the blonde hairstyle with dark origins will certainly offer you all the liberty!
60. Wavy Hairdo with Piece-y Bangs.
Gorgeous blonde waves are soft, pleasant, as well as very easy to drawback right into lovely buns for a rare occasion.
61. Medium Hairstyle.
Your medium hair is worthy of a unique therapy: offer it a radiance with blonde balayage highlights as well as a smoothing product!
62. Cut with Swoopy Layers.
With just 2 degrees of layers that exist where you desire them to, this cut is straightforward as well as fashionable!
63. Unbalanced Upside Down Design.
If you're everything about posh medium haircuts for ladies, the precise upside down lob needs to get on the top of your shopping list.
64. Neck-Length Curly Cut.
A medium haircut with a lot of tousled swirls makes this design a champion, put on up or down.
65. Poker-Straight Piece-y Shag.
Shaggy hairstyles with weakened bases are prominent for their edgy modern-day ambiance.
66. Upside Down Hairdo with Bents.
If you have a rounded face, select an upside-down shaggy lob with curved waves. The longer size, as well as tilted form with sharp ends, will conveniently slim you down without a plan.
67. Dimensional Layers.
With the best lob, you won't need to fret about your face form or hair appearance as the cut ticks all packages!
68. Mid-Length Wavy Shattered Hair.
Lived-in hair is a point as well as you can get it with a curly mid-length cut illuminated by refined highlights.
69. Two-Tier Cut with Angled Layers.
To get an elegant office-friendly appearance, go hefty on layering and maintain your hair directly as well as smooth.
70. Shoulder-Length Mermaid Hair.
The scrumptious toasted coconut balayage for curly hairs amounts to mermaid's hair!
71. Drape Bangs.
Medium untidy curly hair with drape bangs is all you require to get the rock-and-roll ambiance.
72. Gray Brown Cut.
For older ladies, a beautiful means to update an all-natural grey hair shade is to include lowlights, in cozy brownish, as an example.
73. Mid Size Brown Balayage Hair.
This medium cut with longer layers includes the body and appearance to the base of the hair as well as supplies an extravagant search for those that like using their hair down.
74. Collarbone-Length Thick Hair.
The mix of brownish as well as blonde flaunts the silky smooth waves of the shoulder-length hairstyle for thick hair.
75. Split Cut with a Side
The no-fuss blonde split medium reduced with its easy side parts is your brand-new style…