Fantasy hairstyles are those hairstyles you have seen in movies, on the red carpet, but most notably in cartoons with princesses. They are right for an event where you want to shine or where you want to make a memorable entrance, or even if you want something new. This article is about them, the fantasy hairstyles. You will find out which are them and also how to create one.
Fantasy hairstyles are most often approached by those women who in childhood were following the cartoons or movies with princesses and could only dream that they would become so sometimes. The innocence of youth is now reflected in magical hairstyles worthy of films. Fantasy hair is that type of hair that you would not wear every day because it is not a casual look.
Whether you make a beautiful mermaid braid or a bird nest of hair, fantasy hairstyles are very suitable depending on your wishes and also your type of hair.
Fantasy hairstyles are becoming more popular and used, even if they are not a casual look. These kinds of hairstyles usually are made with the help of useful wigs and also a lot of accessories. We are used to seeing these hairstyles in movies like The Lord of the Rings or Game of Thrones. If you pay attention to female characters, their hair is very long and often curled, with little braids all over the head, giving them an elegant regal appearance. Also, in certain scenes, we can see the opposite of this approach represented by female warriors, where they usually have very long ponytails.
Every Disney princess has a signature hairstyle, which she wears all the time. Think of Rapunzel and her incredibly long hair. Or at Elsa's braided tail. What would Disney princesses be without the looks we know them?
Before moving on to the topic of the article, namely fantasy hairstyles, there is a question we should ask ourselves, namely: why do we want to be princesses? Because theoretically, making such a hairstyle is because we want to get closer to the fantastic image of a princess.
Fantasy Hairstyles Ideas
The obsession for princesses, for some of us, begins in early childhood. We watch cartoons with princesses and royal families, and we ask parents to buy us pink and large dresses, we wear tiaras around the house, looking bright and graceful in a street or a sumptuous castle.
Time goes by, as we know it, and we wake up into adulthood by watching ourselves glued to the TV at a royal wedding or reading the unreleased news about what simple girls' life turned into a magical life by getting married to a prince.  We have already realized that we do not have a chance to become princesses, so we project our childhood wishes on women in the media attention who have a relationship with any member of the royal family. But what exactly makes us want to be ardent, or, better said, to be, "princesses"?
I think we want to be princesses because we imagine how easy our life would be if we wore shiny tiaras and large dresses, as seen in movies. Besides, princesses are not like all ordinary women: they always look perfect, their hair looks great, they are dressed in the most stylish clothes, and they go quickly and gracefully on heels. They seem to be beings from another universe – one in which the laws of physics and especially the laws of Murphy do not apply.  What attracts us, however, is just an illusion.
Nothing distinguishes us from those women who hold a royal title. Okay, well, almost nothing! However, the life of the princess is not as pink as we imagined – think about how each gesture or movement is carefully analyzed and commented upon by hundreds or even thousands of people, they must follow a lot of strict rules, written or unwritten. It doesn't look so pretty anymore.
Princesses' theory can be extrapolated to any other area of ​​life and applied in any other form: an illusion, an ideal image created by movies, series, or books (be it for children, teenagers, or adults). Next time when you find yourself wanting to be someone else than you are, remember that you can be anytime you want a princess (or anything else) just because you have decided! Also, you can be a princess because of your fantasy hairstyles!
Below, we will show you the most used and known fantasy hairstyles that a lot of women from the red carpet adopt, but also women who have a glamorous event or something special happening in their life:
The first way you can arrange your hair like a princess straight from the stories is like Princess Belle. This hairstyle is elegant, with a regal air and worthy of true princesses. It is not a look adopted quite often, because it does not fit most of the occasions where women participate, but it is worth trying for the sake of the final image. It is usually used in fashion shows or theater/movie shows.
Mermaid braid.
The mermaid braid is one of the most spectacular hairstyles of the moment. It is very easy to make and can be created with any type of hair (straight, curly, wavy, chalk, or completely non-arranged. Braids are some of the lightest and most spectacular fantasy hairstyles that can be worn both in everyday life and at the event.
The mermaid tail or mermaid braid is easy to obtain even in the privacy of your home. This type of hairstyle has become increasingly used since the movies with princesses who had this hairstyle. It is a type of hairstyle suitable both for special events such as wedding, engagement, but also for red carpet events. As beautiful as it looks, it is so easy to make. However, it is preferable to be made in a salon, but not necessarily.
Mermaid colored hair.
Similar to the previous hairstyle, it refers strictly to the color we dye our hair. We can arrange it in any way, but the color must be like the sirens in the stories.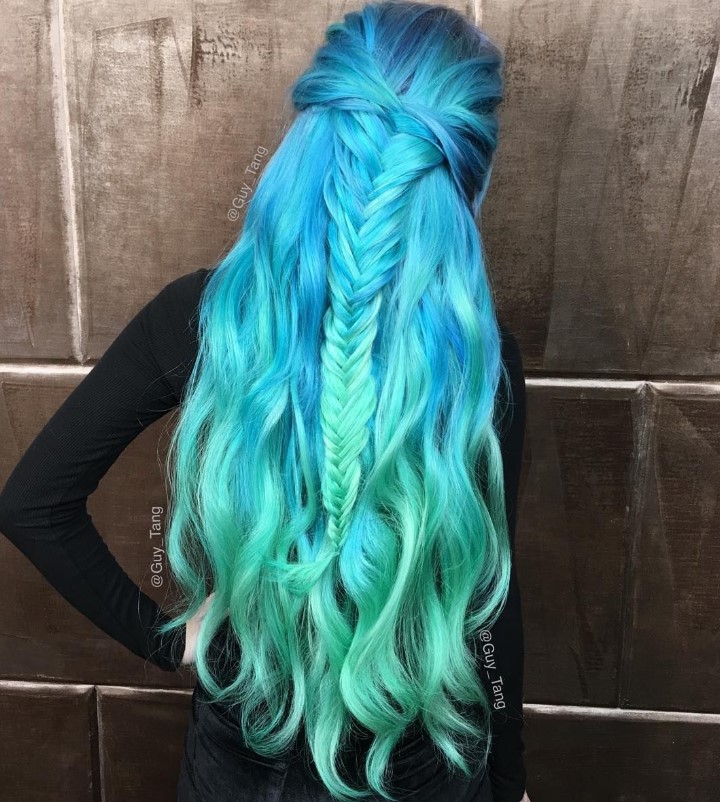 Usually, the most common color is pink or purple, or even both. This magical aspect that it gives, I remove any outfit from anonymity and make people admire you, but it is not necessarily a daily look. These electric colors highlight your face and its features. Most often, if you make a color like mermaids have (Ariel, for example, has red hair), it is worth doing a braid along with the head or waving it to give exactly the magic aspect worthy of princesses.
The romantic bun from novels.
One of the simply everlasting hairstyles that bring out the romance in people is the low bun. You might associate it with some characters in Jane Austen's novel. If you are a passionate reader, you have probably already come across a Jane Austen novel. And now the question is: how often did you imagine yourself in that heroine role, that saves the world with the hair in the wind? I'm sure you did!
And lucky for you, now you can feel like that a little by getting that hairstyle that will help you relive your dream. It also will bring you back in time, and you will feel young again.
Princesses' buns!
When it comes to fantasy hairstyles, the buns are hard to beat. Whether you are making a messy one or a fancy one, it is a hairstyle guaranteed to keep everyone's attention on you and also make it look like you have put more effort than you have.
The most known Disney bun is the one Tiana and Cinderella have. Though Tiana wears her bun as a part of her costume, there's nothing you can say about it because it looks great. She also has her bun accessorized with a tiara, which is the romantic touch she adds to her overall look. She also has some curly strands left messy, which makes the bun look less dramatic.
Braids can be the escape of anyone when it comes to fantasy hairstyles. A braid can emphasize a hairstyle or define the whole hairstyle. If you prefer the first option, try a waterfall braid that will pass through your strands of hair without using all your hair. If you want something more complex, take a page from the Disney book and get inspired by Elsa's Frozen hairstyle. Or make any braid you like – there are no limits here!
Khaleesi hairstyle!
If you watched this famous series, you should know what I'm talking about. Still, even if you have never seen an episode of the famous Game of Thrones, you have seen photos of Khaleesi's magical hair. She is not only the Queen of Dragons but also the queen of hair.
Her hair is always the longest and the most royal on the screen, and her strands are next lever for inspiration, whether she is winning a battle or just watching the sunset. Her hair always looks perfect. Silver, insanely complicated and detailed braids, her hair is representing who she is: a queen.
Most of these hairstyles can be tried at home, so you won't necessarily need the help of a hairstylist. Only if you are going to a special event or you're a bride, then it would be a shame not to let a professional do his thing.
If you're not sure which one will suit you, you can also ask for the help of a hairdresser, and surely you will find the perfect fantasy hairstyle for you. Of course, there are a lot more types of hairstyle that you can try, because in the Disney universe and not only there, a lot of princesses exists and as much as them, a lot of hairstyles.
Also, you don't need to have that long magical hair you have seen in movies. Short hair can be very well used for a lot of fantasy hairstyles.
How to Make a Fantasy Hairstyle: The Princess Bun
The princess bun, being the most approached type of fantasy hairstyle in most events, as well as weddings, is not difficult to achieve, but it requires the help of a professional. Following a few simple steps, you can make it in a very short time!
– Start by spraying on the wet hair, from the root to the ends, a spray for volume. This way, you will get the volume needed to create such a bun.
– After that, dry the hair with the hay using the cylindrical brush. If you do not have such a brush, dry it while you sit with your head down, insisting on the roots.
– In the front, you will create a small path in the middle, about 2 cm. Starting from the crest, you have to comb the hair with a small tooth comb, following with the spray, spraying fixative at the root of each, to keep the volume.
-After completing this process, comb the hair to the back using a standard brush. Grab the strands that surround the face with a few staples. This will give you the sensation of a streak of hair that covers your ears a little.
– Then, with the help of the staples, grab the hair at the back, one by one, until the bun takes the desired shape. Twist the strands and hide them under this bun in the form of a cocoon. The back hair does not have to be extremely finished, as the "crown" obtained in the ridge will come out.
– In the end, spray a little fixative spray to finish the royal hairstyle.
This "princess bun" is ideal for the days when you feel like your hair does not want to be arranged in any way. You can accessorize this hairstyle with stripes, which you can choose depending on the outfit or the event you attend…