Toe nail designs 2019 give certain elegance to any woman's feet. The nail art is always evolving, so you must not limit yourself by taking care just of your manicure, but to improve your pedicure too. Take your inspiration from our photo gallery and get started your pedicure session! For the best results, we recommend you to use good quality products.
Toe nail designs are beautiful and they complete the fashion look. Practice yourself and make use of your skills to try different methods of creating pretty nail art. You will see it is not hard to obtain awesome toe nail designs just as the ones from the hands, because the techniques are similar, maybe even easier. Explore the versatility of toe nail designs! Escape from the boring look by adopting colourful designs for your toe nails and your mood will cheer up for sure. Feel free to use nail accessories, because your toe nails can enjoy them too: beads, stickers, glitter, spangles and many other elements which can provide a perfect look.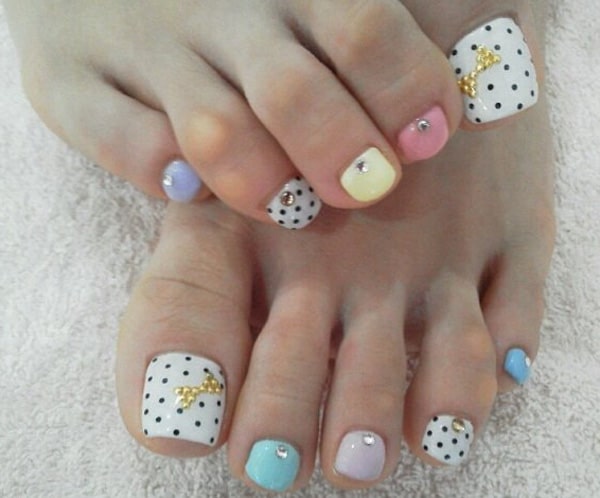 Play with colours and figures
Enhance your toe nails by creating cute polka dots! The technique is very easy and the result will give you a vintage look. It is necessary to use a base colour of your choice and then you can make dots of a different, contrasting hue with the help of a dotting tool of if you do not have one, you might use a simple tooth pick. The final touch is given by a top coat, which will give protection and brilliance to your toe nail designs. You can use other geometrical figures (even abstract combinations) for your toe nails in powerful contrast or pastel colours. Put the accent on the big toe nail, use animal print, mix different colours and shapes.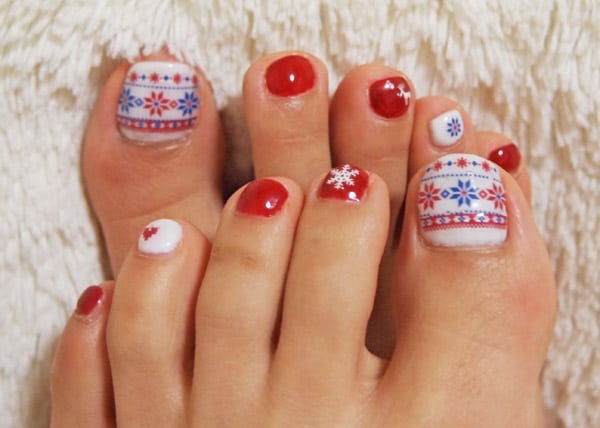 Use your imagination
There are no rules related to the nail art, even if it is for the toe nails, so use how many elements, combinations and designs you wish. For example, add a classy look to your toe nails by making delicate flower patterns on your toe nails. You need a base toe nail colour to start with, and then you can paint some flowers as you like. If you are skillful, you can decorate your toe nails with intricate designs, but if you are not, you can also benefit from the beauty of flower patterns: for example, you can make easily some little flowers by painting five dots petals or you can add stylish flower stickers. If you must go to a formal event, you can wear elegant designs for your nail toes. The stripes make some great choices especially if you want to match a dress or nice footwear. You can use stripes in any colours, dimensions or shapes, depending on the type of your outfit or to match them with the rest of your look…
There are a lot of easy toe nail designs you can give a chance. They come in various chic patterns and you can choose to paint the ones you prefer best, according to your personality and taste. Have fun and stand out with these attractive patterns and your toe nails will shine!