Glitter nail designs are perfect if you want a shiny manicure. You can create some exquisite nail patterns with the help of glitter. Just look at our collection of photos and take into consideration our suggestions, if they match your taste and personality.
Glitter nail designs represent a simple manner of drawing the attention. When it is used properly, the glitter it can lead to some great results which will catch the eye of everybody around you. These sophisticated patterns will make you look extraordinary if you try them. Generally, glitter is very easy to use, but if you have difficulties when creating your own manicure, then ask a friend to help you or you can see a professional, who will make sure you obtain the perfect manicure you wish for. Glitter can be used on any type of nail shape: round, square, stiletto, all of them look very good.
Simple glitter patterns
The simple, casual glitter nail designs can be worn every day and match any outfit. Glitter highlights any manicure, no matter the pattern. You can add a glitter twist to almost any style: for example, opt for pink or nude French style with a little silver glitter on the tips, ombre nail art, funky glitter nail designs, or romantic glitter lace effect.
Festive glitter nail art
It is a great idea to have festive glitter nail designs. These classy styles are appropriate for the parties, where you have the opportunity to look glamorous. A subtle sparkle of glitter is the right choice if you are a more conservative person. But if you are a bold woman, then try extravagant glitter nail patterns. For better results, we recommend you to add a layer of clear nail polish at the end.
Lose glitter nail styles
The lose glitter is a big trend right now and many women became fascinated with it. This type of glitter adds a special texture to your manicure and very much brightness. It is not very hard to achieve these styles: add a base coat, a scotch tape if you want a certain design, then you need lose glitter in the colour of your choice to pour it upon your nails with the help of a paper or a recipient, and if you wish, you can add other nail ornaments too, like strands, for example. You will obtain a stunning manicure!
Acrylic glitter nails
If you have acrylic nails, you can paint them too with glitter. There is no rule according to which you cannot use nail jewelry (like pearls or rhinestones), or delicate sequins in the same manicure with glitter; on the contrary, if you dose the glitter properly, you can achieve some spectacular designs.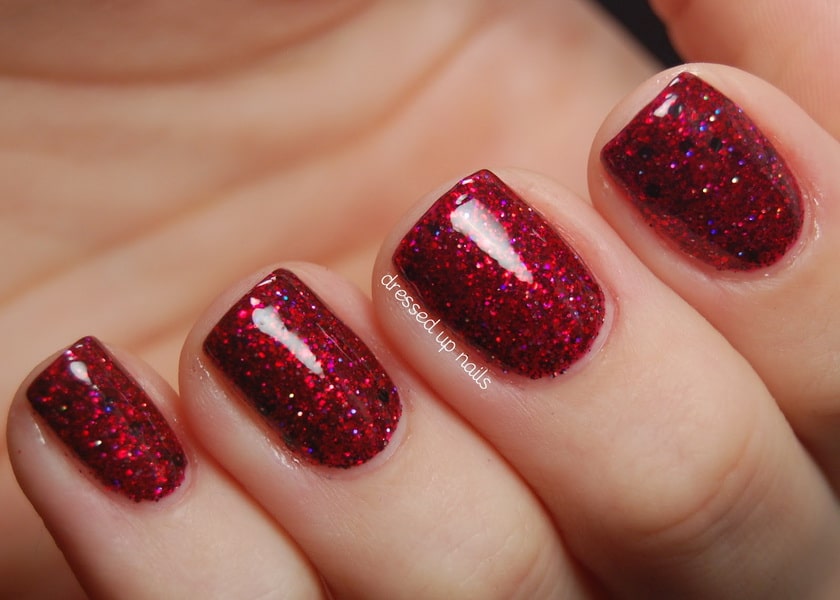 Colored glitter nail designs
You can choose the type of glitter to match any outfit you like and even mix the glitter types. There are a lot of glitter colours which look amazing when they are used in the same manicure type. For example, the combinations like silver and gold, or blue with orange, pastels or contrasting effects between a dark polish base and shimmery glitter.
Feel free to use any kind of glitter you want, depending on the type of manicure you decide upon. You will feel amazing when you will receive many compliments regarding your glitter nail designs.