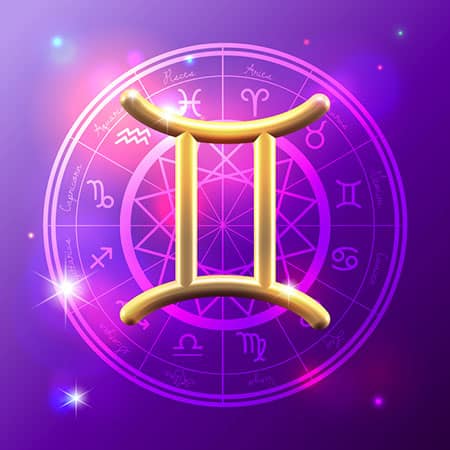 Gemini will have a great year in 2018. They will be able to meet new people, to establish partnerships and friendships. The first part of the year will bring new characters in Gemini lives. These people will become their friends, supporters, advisors or life partners. But not everyone is welcomed in their lives. Gemini will select very strictly the kinds of people who will surround them. They only like the smart persons, the lively and original ones.
Saturn will influence their relationships from December 2018 to December 2018 (with a short break between June and September 2019). Saturn doesn't like frivolity. That is why Gemini will establish a barrier between them and those who don't think too much. The intimate part of Gemini's live will also be analyzed in the year 2018.
People born under this sign must stay away from disputes and lawsuits, because it can be very difficult to obtain the desired outcome! The social life of these people will be very lively in the first half of the year 2018 and it can involve collective activities as well.
Gemini's professional success has to do with intellectual concerns, with information, with communication, writing, or with their oratory skills. Gemini will meet people and will live events which will open new gateways to knowledge. Other good news is the fact that Gemini's health will improve in 2018. But let's find out more about Gemini horoscope for the year 2018.
Love horoscope Gemini 2018
The year 2018 invites Gemini to reflect on their love life and marriage. The events that will happen in 2018 will help Gemini find the right answers to questions like: "Am I in the right relationship? What so I need from a relationship? What expectations do I have from my loved one?".
The year 2018 is the first of the three years which Saturn will spend in Gemini love life. Saturn is a wise planet who wants to teach you how to analyze and how to think more deeply. That is why it will make Gemini pass various life tests.
This year brings a good opportunity for Gemini to find a balance, to reach an emotional maturity and to redefine or change something about their life in a couple. Some Gemini will get more involved in their love life, while others will find out that they need a break.
All Gemini feel that they need a responsible person who they can rely on in their lives and they will be willing to do everything that's necessary to find that perfect person.
Career horoscope Gemini 2018
Saturn will not influence the professional life of Gemini anymore and that is the reason why the atmosphere will be relaxed after so many of tensions and difficulties. Everything seems to go very well, but there is a chance that some problems will appear in the professional life of these people.
Neptune will start to influence Gemini from the career point of view and that is why they will have to make some efforts to focus on their objectives in order to maintain their main goals. So, if Gemini people want to be successful in 2018, they have to act strategically, in an organized way. These persons will also have to pay some attention to their associates, collaborators, competitors and adversaries.
At the beginning of the year 2018, supported by Jupiter and Uranus, Saturn can make Gemini encounter serious people with whom they will form a great team. Since August 2018, Gemini must pay more attention to their associates and partners, because some disappointments may appear. Some intellectual activities will appear in Gemini life that will require their intelligence, their communication skills. There can appear some interviews, some exams, some speeches and some negotiations…
The second part of the year 2018 will be very profitable for Gemini in areas such as real estate, agriculture and also businesses that involve goods or antiques. From the financial point of view, the first half of the year will be more generous than the second one. Gemini must remember that money must be managed carefully.