Short haircuts are very attractive, daring, trendy and they exist in a lot of cool variations to choose from: cropped hairdos, short romantic curls, gorgeous pixie cuts, cute bobs with bangs, all of them will make you want a change. Take a look at our ideas and feel free to inspire yourself from the ones you like best.
Short haircuts are definitely in trend this year. Many famous actress and artists wear them with style and they are very admired for their daring, but in the same time, romantic attitude. Perhaps you always preferred the short hair or just maybe you are tired of keeping it long and you want a change of style, or you find yourself in a situation where cutting your hair is a remedy solution to make it grow stronger and healthier afterwards. You have no reasons to be sad because you cut it too short or maybe because you do not know how to style it.
In this modern days, you have plenty alternatives to make your short hair look amazing, and if you feel you wear a haircut which it looks great on you, you feel great on the inside too. You can follow the example of your favourite stars and find out which short haircuts are the perfect for you, so you can feel happy about yourself and confident that you will be admired by everyone even if you do not have long hair.
Easy styling
There are a lot of easy short haircuts to try without the fear you might get unnoticed. The secret is to wear your haircut with attitude and to choose the right ways to style it to look gorgeous every day. After you get your short haircut, you can experiment different styles for your short hair in your free time at home, and see what do you like best, without spending money. Or you can go to a professional stylist to arrange your haircut exactly the way you desire. We hope that our ideas of short haircuts are helpful for you to decide which one you will wear this season.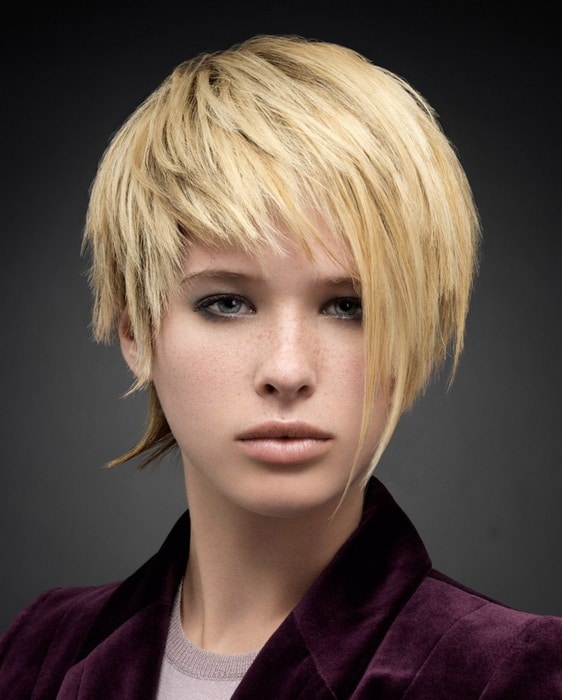 Cool hair crops
Pixie cuts are stylish short haircuts which draw the attention. You can experiment to discover plenty of versions of pixie cuts. You can opt for one pixie cut with a soft side-swept bangs  – you will look amazing! Other options are cute super-short pixie cuts which give you a classic and sophisticated look, but in the same time they show you are a bold women with a mature style.
You can be an interesting and feminine apparition wherever you go if you have a closely-cropped  hair with short sides and subtle soft waves on the top; your face will be luminous and this style enhances your natural beauty, without too much effort.
Mohawks are some fun short haircuts for the women who want to reinvent themselves and add some extra style. They are versatile, so you can wear them in different trendy ways, from alternative edgy look to glossy image for fancy occasions.
Cute bobs will always be remarked: short angular bobs with curls, stylish sleek blunt bobs, vintage 1920′s structured curls, short bobs with blunt bangs,  short bobs with deep side-parting, simple asymmetrical bobs, they are all in trends right now and you surely make a very good decision if you opt for one of them.