Are you a fan of short hairstyles? If your answer is yes, then you must find out which are the most popular short hairstyles in 2019. You must be a bold woman to decide to cut your long hair and make such a change in your look. Maybe you will need some time to adjust to your new hairstyle but we guarantee that you will end up loving it.
Many women choose short hairstyles when getting older, because this look can make them look younger and they can hide some flaws which tend to appear with the aging process. As you have probably noticed by now, many Hollywood celebrities cut their hair and opt for a short bob or a pixie cut.
So, why shouldn't you do the same? You will draw everyone's attention and you will look great each time you leave the house.
A short hairstyle is very modern. This is a dramatic look and you will look gorgeous with it.
Pixie cut
This hairstyle may seem a little tomboy and you can be considered a rebel by choosing it. But it is a very modern hairstyle and very popular this season. When opting for this hairstyle, you make a real fashion statement. Your facial features are enhanced and it is very easy to maintain it. If you are a mature woman, you will look much younger with this look and you will also be able to hide some of those wrinkles that bother you so much.
Don't be afraid to experience something this bold and daring and try a pixie cut right now.
Short bob
If you consider that a pixie cut is too bold for you, you can try a short bob. This is another very popular short hairstyle in 2019. Whether you chose a straight bob or a curly one or an asymmetric one, you will see that this style is perfect. You can easily maintain this hairstyle, and you will look absolutely fabulous.
You can wear this hairstyle in many different ways and one of the most popular ways is the sleek way. This translates into a wet look. All you need is a comb and some gel. This can be both a casual look and a sexy one.
Asymmetrical short hairstyle
Different textures and layers fit perfectly a short hairstyle. These can totally transform a common short haircut into a real work of art. You can ask your stylist for an asymmetrical haircut which looks slightly rebel, but in a calm and controlled way. You will look stunning even when wearing a simple outfit.
Hawk hairstyle
This is a daring look and if you are a bold woman, then you shouldn't hesitate to try it. This haircut consists in cutting your hair very short on the sided parts, and leaves the hair long on the top. Give your hairstyle as much volume as you can with your brush and hairdryer, and get ready to look cool. Use some hairspray to make sure your hairstyle resists…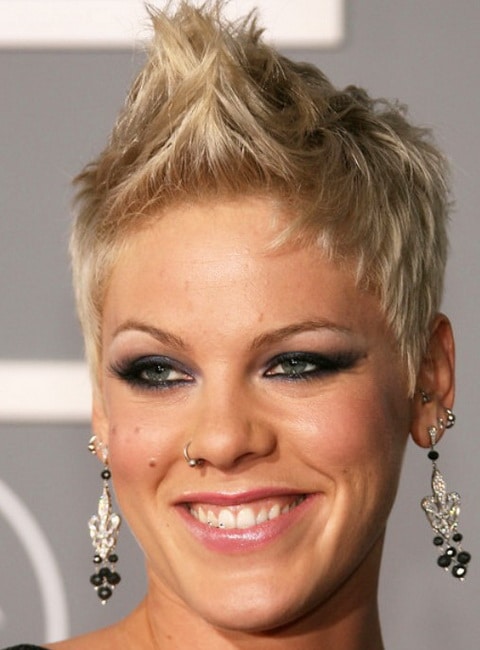 Are you ready to try one of these wonderful short hairstyles which are so popular in 2019?