The biggest day of your life is almost here and there are so many details to take into consideration: your dress, your hairstyle, and your accessories. But what about your bridesmaids hairstyles? You also have to pay attention at their dresses, and of course, their hairstyles. They must look great that day in order to complete that perfect wedding picture you have in mind. We will help you find the best bridesmaids' hairstyles. Take a look and find out more!
Your bridesmaids must look perfect that day. Their dresses, accessories and shoes must combine perfectly. And their hairstyles must complete their look. You don't want your bridesmaids hairstyle to look ridiculous that day!
How to choose the bridesmaids hairstyles
When deciding your bridesmaids hairstyles you must take into consideration some things. First of all, consider the dresses they will be wearing. Simple dresses call for elaborated hairstyles, while complicated outfits need a simpler hairstyle. Also, a dress with a high neckline needs a pulled back or up hairstyle. On the other hand, a strapless dress allows your bridesmaids to wear their hair down. Only following this advice, your bridesmaids will look fantastic on your wedding day. It is best to take your bridesmaids for a rehearsal before the actual wedding. Make them try on their dresses and different hairstyles and decide which one suits best.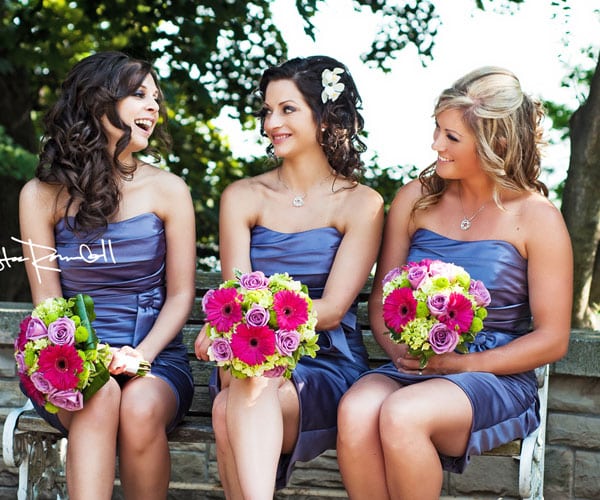 Another important thing to consider is the fact that your bridesmaids shouldn't wear the same hairstyles. A few years ago all bridesmaids would wear the same dresses, shoes and of course, the same hairstyles. That is over. Today it is more important to keep bridesmaids hairstyles unique. Even if you chose the same dresses you must chose different hairstyles for them. Talk with them and with your hairstylist and decide which style goes better with each bridesmaid.
Bridesmaids hairstyles
Here are some interesting ideas of what you can use when deciding your bridesmaids hairstyles. Chose the ones you like the most and don't hesitate to use them.
One idea would be a braided bun. This is the perfect hairstyle for bridesmaids with long hair. You can also try adding a small hair accessory and your bridesmaids will look great during your wedding.
Another hairstyle you can try is the ponytail. This is one style that never gets old and that can be worn at a variety of events, including a wedding.
A good idea would also be to have your bridesmaids wear their hair down. They can try adding volume to their tresses or they can wear it on one shoulder. Either way they will look great.
Which style will you choose for your bridesmaids?