Princess hairstyles are the most appropriate ones for proms, homecomings and special events like dinners in the restaurants, beauty contests, weddings, fancy parties and some of them can be worn even every day at the office. Take a look below and find your favourite hairstyles which you can wear to look like a princess.
Princess hairstyles are very elegant and they benefit any girl or woman, no matter her age. The main feature of these kinds of hairstyles is that they are ultra-feminine and soft. Delicate hair jewelry will add a glamorous twist to all princess hairstyles. From long locks to up-dos, buns and elegant braids, we have plenty suggestions to help you find the right royal hairstyle you need.
Long locks
When we think about princesses, we have in mind their beautiful long hair and shiny tiara. That is why you will impress everyone if you expose your soft locks. Either you have straight hair or fantastic curls, you have a lot of ways to wear them and look like a princess.
Some of the greatest hairstyles you can have for long hair are the messy pinned-back waves, the braided nape, the half-up messy bow and the lovely long loose flowing waves. But you can opt for many more styles like this.
Up-dos
Nothing says "princess" more like an up-do. You can opt for the classic up-dos or you can choose to enhance them with braids and curls.
The softly tousled up-do with band will make you shine and have a royal appearance. You will draw everyone's attention with a softly sweeping up-do. A stunning centre-parted up-do will also be a perfect choice if you want to look like a princess; the key to this style is the volume, so the best solution is to use large rollers and enough hairspray as you need to keep it in one place. An intricate curling, pinned-in up-do is perfect if you have a simple dress, because they will complement each other and create a classy general balance.
If you do not want to have all your hair gathered in one place, you can have other princess hairstyles like a romantic up-do with a few strands which have been left loose; these strands of hair will frame your face very well and the up-do can be straight or wavy. Other impressive alternatives are the soft, vintage inspired hairstyles like the crimped bob specific to 1920s.
Classy buns
The buns are extremely adequate for a royal look and you can wear them everywhere, in the right context. These princess hairstyles are gracious, so every girl or woman will be even more elegant when wears a classy bun.
One of the best princess hairstyles is the donut bun. This hairstyle imitates the aspect of a donut, but it is very formal. Many women know this kind of bun also under the name of "the ballet bun", but this one is more voluminous. Other beautiful buns for a princess look are the ones combined with braids, the ones which are intricate or the loose low bun associated with statement earrings. A side bun might also be what you need.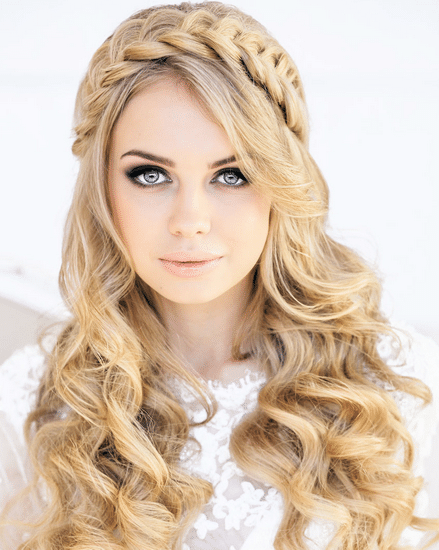 Elegant braids
Braids are a big trend right now, and they will be a must-have next year too, but they have always been beautiful and some hairstyles with braids add a real royal look to your style.
You will never fail if you choose the braids as your princess hairstyles. For example: draped French braids, waterfall braids, the side French braid, the crown of knots, the all over wrapped braided hairstyle or the lace-through braid are just a few gorgeous styles with braids you can try.